Cirque du Soleil and four other great things to do in Malta this winter
|
Malta is known as a country with a beautiful coastline and many interesting tourist attractions throughout the country. Winter is a great time to visit this culturally and historically rich country with many joyful traditions. Romance, adventure and warmth are guaranteed, especially considering that Malta is a country with up to 300 sunny days a year.
Attend the spectacular circus performance FIERI (by Cirque du Soleil)
This winter, the famous Canadian circus troupe, Cirque de Soleil, is coming to Malta with their new show. FIERI by Cirque du Soleil, as the group presents it, is an uplifting journey inspired by the cultural roots of Malta and its archipelago. The show is, therefore, an excellent choice for those who want to get to know the culture of the country. The 'story of resilience', as the show is called, is a modern take on the authentic spirit of Malta.
Featuring the authentic acrobatics and visual arts that Cirque du Soleil fans around the world have come to appreciate, the show tells the story like a contemporary mosaic inspired by Malta's greatest treasures. The circus' 28 75-minute performances will be performed exclusively at the Mediterranean Conference Center from November 25, 2021 to December 19, 2021. The Mediterranean Conference Center is a 16th-century landmark located in the heart of Valletta.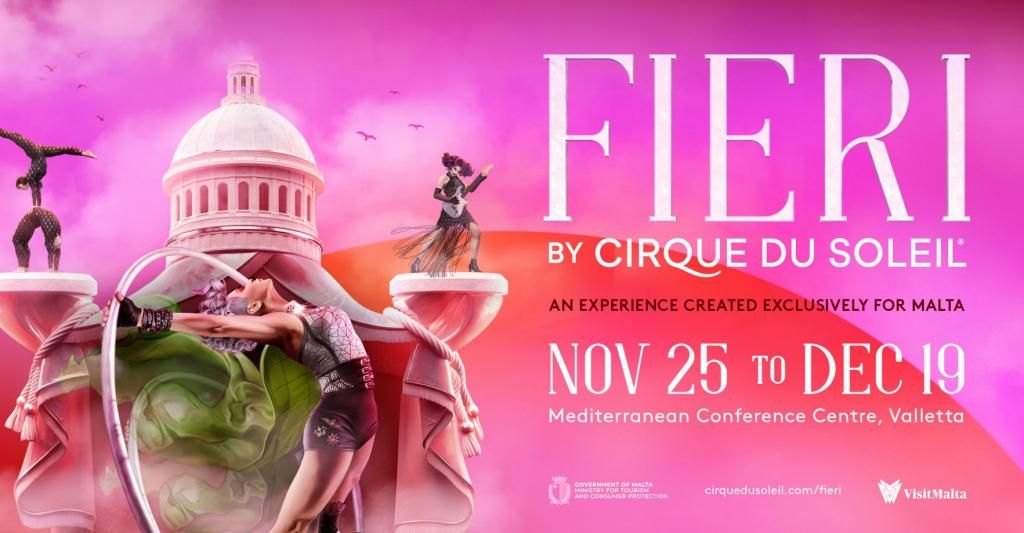 Choose from many award-winning restaurants
Food and drink are the essences of Malta's culture. The fact that the country has five restaurants that have been awarded a Michelin star is therefore certainly not surprising. Yes, you read that right – five! Three Maltese restaurants have also won a Bib Gourmand award. In addition, twenty-three restaurants have also received the Michelin Plate Award. From a gastronomic point of view, quality is therefore certainly guaranteed on the Maltese Islands.
For foodies, Malta is a great location for a pleasant winter break, with the option to choose from many different menus to suit all occasions and all times of the day. Ideal!
Taste local Maltese wines in the famous vineyards
Rich soil, a light sea breeze and 300 days of sunshine a year make Malta a renowned European centre for good quality wine. Visit a local winery and meet the locals. Choose from the many beautiful vineyards for a delightful outdoor adventure or embark on your own wine tour of the country. When it comes to wine, Malta doesn't let anyone down. Wine tours and wine travels are a great opportunity to sample the local wines. Here you will learn more about the history and the process of winemaking, while simply enjoying the picturesque and beautiful vineyards.
Explore Malta's amazing cultural sights and attractions
As a cultural centre and the largest of the three Maltese islands, Malta has a lot to offer in terms of cultural tourism. With its rich and colourful traditions, Malta's surroundings are rich in several interesting cultural sites, museums, old villages and inspiring buildings.
In addition, the MUŻA museum in Valletta is an unmissable attraction for culture lovers. Located in the Auberge D'Italie, this well-known museum is a treasure trove of the best artistic masterpieces. The museum is digitized and modern equipped with a restaurant that offers a catharsis for the taste buds.
Gozo's magnificent Astra Theater in Victoria is also well worth a mention. This renowned theatre has been a centre for the performing arts for over 50 years. It is architecturally, historically and culturally interesting.
Ta' Qali Crafts Village, Gran Castello Historic House and Casa Rocca Piccola are just a few of the many other cultural gems to be seen in Malta.
Visit Santa Claus in his Fairytale Town
Fairytale town means big and lots of fun. The winter holidays in Malta can become quite unforgettable when you visit Santa Claus, along with his elves, in his favourite city on the Mediterranean. 'The most wonderful time of the year' takes on its true meaning in Fairytale Town. It is a centre of pleasure, love and happiness. Santa loves it when people of all ages and from different countries visit him in Fairyland. This short Christmas trip is, therefore, an ideal choice for groups of friends, couples, children's groups, families with children and even those in their golden age who are still young at heart. Fairyland offers fun for everyone!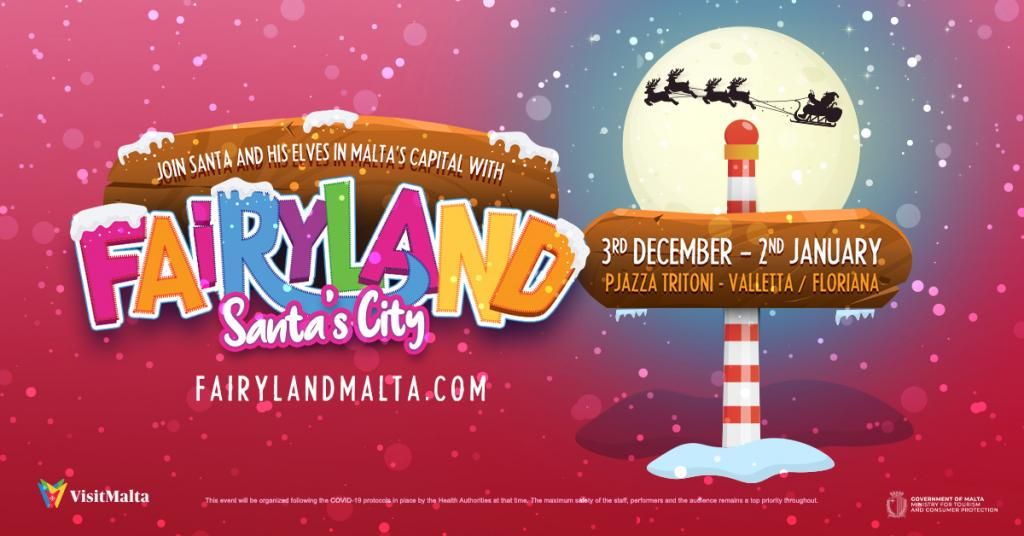 COVID-19 status for travel
Malta is also currently one of the safest travel destinations in the world. More than 80 per cent of the population has been vaccinated against COVID-19.
Entry Key Points: All passengers must hand over (1) a completed Public Health Travel Declaration, (2) a Passenger Locator Form (PLF), and (3) a valid Superintendent of Public Health recognized vaccination certificate (age 12 +).
For a full vaccination course (2 doses or 1 dose of a single vaccine) is valid: an EMA approved vaccine (Comirnaty [Pfizer], Jansen [Johnson & Johnson], Spikevax [Moderna] or Vaxzevria [AstraZeneca]) with batches approved by the national regulatory authority of the administering country, with a withdrawal period of 14 days after the last dose.
For the most recent information about the travel measures when traveling to or from Malta, please refer to this link.
This article was published in Partnership with VisitMalta.
---
Don't forget to follow our Spotify Playlist: