Debut release J-Felix out 19th january
|
Out 19th January 2015, "101 Reasons" is the debut release from new signing J-Felix on Tru Thoughts. The digital single lifts the lid on three addictive tracks with a heavy '80s funk lilt and a dubby rhythmic driving force, showcasing the sound of this Brighton based producer, singer and multi-instrumentalist as he works on his full LP.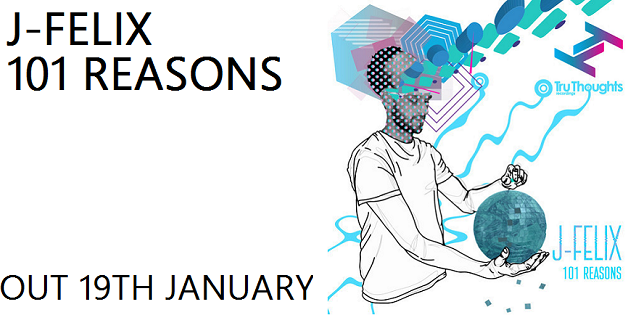 He has cut his teeth in an eclectic range of bands and musical projects, including touring internationally as Alice Russell's guitarist, as well as having his work licensed to various compilations alongside the likes of DJ Vadim, Ta Ku and Opolopo (to name just a few) and picking up props from Mixmag and Hilly Dilly. He also absorbed a huge array of influences – from A Tribe Called Quest to The Clash to De La Soul; Jimi Hendrix to Snarky Puppy – before deciding the time had come to zoom in on his own sound. He was right to take the plunge; stepping out under his solo moniker, J-Felix, he found his woozy, heart-on-sleeve, P-funk laced songs quickly sparking interest.
While there is a clear identity running through the three tracks here, each brings a plethora of sonic flourishes to the party. The catchy and driving vocal of "101 Reasons" is a sincere ode to the value of excellent friends, woven through a happy-go-lucky, skip-along musical backdrop and a killer beat. "Lady T" celebrates the love of Newman's life with a more abstract and upbeat, fluttering and romantic feel care of some artfully chopped up synth and vocal samples and a rhythm track that pays homage to "All night Long", a classic with a groove that Newman can't get enough of. "So Nice (It's got to be)" continues his innate positivity: "I have always loved music that lifts you up somehow", says Newman. He keeps the feeling alive and fresh, and steers well clear of cloying, with forward-looking twists and unique atmospheric touches like layering chunks of recorded street noise among the percussion track.
---
Don't forget to follow our Spotify Playlist: