Thus Owls Unveil New Album 'Turning Rocks'
|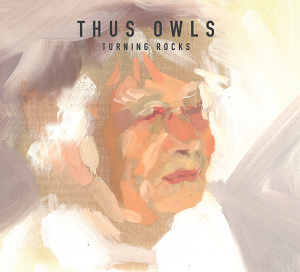 Montreal/Stockholm band Thus Owls have signed to Secret City Records (Suuns, Basia Bulat), and will be releasing their new album, entitled Turning Rocks, on April 7, 2014. The first song on the record – "As Long As We Try a Little" – can be streamed and shared now. The band will be making their first appearances in support of Turning Rocks at SXSW, with North American and European tour dates to be announced shortly.
Thus Owls are a transatlantic band comprised of husband and wife duo Erika and Simon Angell. Their new record is both a scrapbook of memories and oral transmissions from an island in Sweden, and a sonic experiment in tone and colour recorded in Montreal. Turning Rocks is lyrically inspired by Erika's childhood home: a small house in her family for generations, in a tiny village on Orust-an island in Sweden just north of Gothenburg. The process began with true stories that Erika's grandmother told her about people and events from her own youth. "She was a little girl growing up on the exact same land and in the same house as I did," Erika explains "so when she spoke about all those things I felt very connected to it." The process followed from there, with each song on the record drawing inspiration from a different human life somehow connected to the place.
Though Thus Owls sound is rooted very much in Erika's vocal style and Simon's guitar tone, the new record also emphasizes a wider sonic palate. "We realized a lot of the things that was catching both our ears were those old vintage 60s organs," Simon explains, when discussing their musical inspiration. "So we started buying a bunch of them: a Farfisa, a Wurlitzer," he goes on, noting that their new keyboard player, Parker Shper, shared their enthusiasm for the older gear. "It was a nice fit," he says, and it comes through on the recordings. In addition to Parker, Montreal drummer Stefan Schneider was added as a permanent fixture in the group, and he along with Swedish bass player Martin Höper round out the core band on the recordings. Notable guests on the record include Timber Timbre's Taylor Kirk (who sings on closer, "Thief"), Pietro Amato, and Marie-Pierre Arthur.
Thus Owls originated in Sweden as an outlet for Erika's songs. She met Simon by chance while the two were touring in Europe as part of different bands that were paired on the same bill. Erika recalls that she "fell in love with Simon's sound right away," citing the "harshness and the sweetness combined" of his guitar, as well as his experimental approach to music. It wasn't long before they were married, and making music together as Thus Owls.
---
Don't forget to follow our Spotify Playlist: