Stoner Rock legend John Garcia now on tour in Europe
|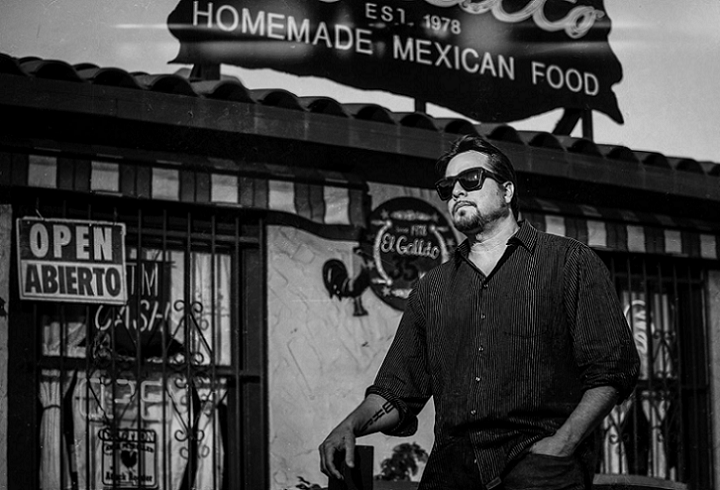 John Garcia, founder & most distinctive voice of the entire desert rock genre. If Rock'n'Roll is personified by the Stones and Pop music by the Beatles, then Stoner was born with Kyuss – reaching definitive cult status they do deserve worldwide ever since – before their three genre-defining masterpieces Blues For The Red Sun, Welcome To Sky Valley, as well as …And The Circus Leaves Town until their split in 1995.
After sharing a dream-come-true experience with fans in major festivals and great venues around the world fronting Kyuss Lives, legendary singer and frontman JOHN GARCIA recorded a follow-up to his legacy as Vista Chino with this critically acclaimed Peace LP. Next chapter, a long awaited intimate project: The solo album of John Garcia – a masterpiece by the most distinctive voice of the entire Desert & Stoner Rock scene – which has been released worldwide in summer of 2014 on Napalm Records!
To celebrate his new release, John Garcia will hit the stages for an extense European tour which starts this week, not only presenting his solo record live, but also playing past and present: From legendary Kyuss songs off Sky Valley, Blues for the Red Sun, …And The Circus Leaves Town – including some rarities even Kyuss never played live – to Slo Burn, this tour will be a highlight and resumé of legendary tunes, that John Garcia has created in his career.
John Garcia will be now hitting the road with the following, fantastic musicians on stage: Ehren Groban – Guitar ( War Drum ), Mike Pygmie – Bass ( You Know Who ), Greg Saenz – Drums ( You Know Who, The Dwarves ).
Get ready, for one of THE most awaited tours in 2014: JOHN GARCIA ( ex- KYUSS, VISTA CHINO, SLO BURN ) – LIVE ON TOUR, playing past & present!
Catch a legend live, and check out all upcoming tour dates HERE:
05.11. NOR – Oslo, Vulkan Arena
06.11. SWE – Stockholm, Debaser
07.11. SWE – Gothenburg, Sticky Finger
08.11. GER – Rostock, Mau Club
09.11. GER – Berlin, Lido
11.11. NL – Hertogenbosch, W2
12.11. B – Antwerp, Trix
13.11. GER – Bremen, Aladin
14.11. GER – Köln, Werkstatt
15.11. GER – Bochum, Matrix
17.11. GER – München, Strom
18.11. CH – Luzern, Schüür
19.11. CH – Düdingen, Bad Bonn
20.11. I – Bologna, Locomotive Club
21.11. I – Roma, Init Club
22.11. I – Mezzago (MB), Bloom
25.11. P – Lisboa, RCA Club
26.11. ESP – Barcelona, Bikini
27.11. ESP – Madrid, Sala Arena
28.11. ESP – Bilbao, Kafe Antzoki
02.12. F – Paris, Glazart
03.12. UK – Southampton, The Talking Heads
04.12. UK – Manchester, Academy
05.12. UK – Sheffield, Corporation
06.12. UK – London, Islington Academy
08.12. GER – Osnabrück, Bastard Club
09.12. GER – Frankfurt, Zoom
10.12. A – Vienna, Viper Room
11.12. GER – Dresden, Beatpol
12.12. GER – Jena, F – Haus
---
Don't forget to follow our Spotify Playlist: