Swedish Heavy Metal Band Sabaton Release First Album Trailer for New Album
|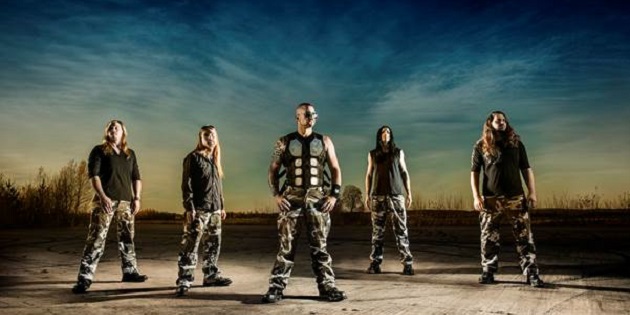 Avid war historians and Swedish heavy metallers Sabaton have released the first album trailer to their upcoming seventh studio release, Heroes, due out in North America in Spring 2014. Shot during a listening session in Stockholm and produced & edited by David Havlena of Spark Magazine. Heroes was recorded at Abyss Studios with Peter Tägtgren (Children of Bodom, Amorphis , Immortal); album art was created by Péter Sallai.
Formed in Falun, Sweden in 1999, the band is best known for singing almost exclusively about historical wars & battles, a direction s Sabaton members decided to take on after watching the 1999 Academy Award-winning film Saving Private Ryan. "For us it means a lot more to write about historical events than to make up stories," says bassist Pär Sundström, one of the main songwriters. The band thoroughly researches their topics to ensure the songs paint accurate & objective portraits of the historical event they're singing about, which are narrated from an omniscient point-of-view or in first-person as a soldier caught in the line of fire. Like their home country, Sabaton aims to remain politically neutral in their role as musical war historians.
Track listing for Heroes is:
01. Night Witches
02. No Bullets Fly
03. Smoking Snakes
04. Inmate 4859
05. To Hell And Back
06. The Ballad Of Bull
07. Resist And Bite
08. Soldier Of 3 Armies
09. Far From The Fame
10. Hearts Of Iron
Sabaton are bringing their dynamic live stage performances back to the U.S. and Canada this April & May as direct support to American metallers Iced Earth on their "Worldwide Plagues" North American tour. Opening each show of the six-week trek will be Dutch heavy metallers & label mates Revamp.
Tour dates are:
04/04/14 The Intersection – Grand Rapids, MI
04/05/14 The Rave – Milwaukee, WI
04/06/14 House Of Blues – Chicago, IL
04/07/14 First Avenue – Minneapolis, MN
04/09/14 Stage AE – Pittsburgh, PA
04/10/14 Newport Music Hall – Columbus, OH
04/11/14 Agora Theatre – Cleveland, OH
04/12/14 St. Andrew's Hall – Detroit, MI
04/14/14 Phoenix Concert Theatre – Toronto, ON – CANADA
04/15/14 Imperial Theater – Quebec City, QC – CANADA
04/16/14 Corona Theatre – Montreal, QC – CANADA
04/17/14 Trocadero – Philadelphia, PA
04/18/14 Best Buy Theater – New York, NY
04/19/14 The Palladium – Worcester, MA
04/21/14 Empire – West Springfield, VA
04/23/14 The Masquerade – Atlanta, GA
04/24/14 House Of Blues – Orlando, FL
04/25/14 Revolution – Ft. Lauderdale, FL
04/26/14 State Theatre – St. Petersburg, FL
04/28/14 Scout Bar – Houston, TX
04/29/14 Trees – Dallas, TX
05/01/14 Club Red – Tempe, AZ
05/02/14 House Of Blues – West Hollywood, CA
05/03/14 Slim's – San Francisco, CA
05/05/14 Knitting Factory – Spokane, WA
05/06/14 El Corazon – Seattle, WA
05/07/14 The Venue – Vancouver, B.C. – CANADA
05/09/14 The Starlite Room – Edmonton, AB – CANADA
05/10/14 Republik – Calgary, AB – CANADA
05/11/14 Riddell Centre – Regina, SK – CANADA
05/12/14 Park Theatre – Winnipeg, MB – CANADA
05/14/14 The Summit Music Hall – Denver, CO
05/15/14 Sunshine Theater – Albuquerque, NM
05/16/14 Diamond Ballroom – Oklahoma City, OK
---
Don't forget to follow our Spotify Playlist: