Willie Nelson and Sister Bobbie Team Up on December Day
|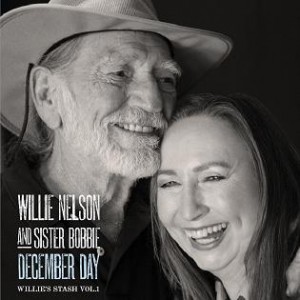 Legacy Recordings will release Willie Nelson and Sister Bobbie's December Day, the first installment of the Willie's Stash archival recordings series, on Tuesday, December 2. An eclectic album collaboration from outlaw country legend Willie Nelson and Sister Bobbie Nelson, December Day debuts intimate new recordings of the siblings performing 18 songs they love. As brother and sister growing up in Abbott, Texas, Willie and Bobbie Nelson learned to read music and play instruments as pre-teens under the tutelage of their grandparents, who raised them. They played together in Texas bands early in their careers and Bobbie has been an essential member of Willie's Family Band since its official formation in 1973. Willie and Bobbie's deeply intuitive musical bond, formed and developed through of decades of practice and spontaneity, can be felt throughout December Day.
With songs personally selected by Willie and Bobbie, December Day includes new versions of gems from Willie's extensive songwriting catalog ("Permanently Lonely," "My Old Peculiar Way") alongside some surprising cover tunes (Al Jolson's "The Anniversary Song," Irving Berlin's "Alexander's Ragtime Band," "What'll I Do" and "Always").
The album's sound is augmented by contributions from other Family Band members, including harmonica player Mickey Raphael and the late Bee Spears on bass on "What'll I Do," recorded during his poignant last session with Willie.
In his first-hand observer liner notes for December Day, Family Band member Mickey Raphael provides fascinating details of the album's performances and insights into the artists' creative process.
"As long as I can remember, Willie and Bobbie, who ride together on Willie's bus, spend some of their traveling time jamming on their favorite songs," Raphael writes. "Bobbie has a travel size keyboard on the bus and Willie's guitar, Trigger is always by his side. This is where the idea for December Day was born. 'Why not record our favorite songs like we play them for ourselves?' Bobbie asked…
"…When it comes to a brother-sister collaboration with the longevity of Willie and Bobbie, there is beauty in keeping things simple. 'Less is more' is the underlying theme. We've heard these songs before but not like this. The spontaneity born out of familiarity is what this record, December Day, is all about.
"It's not rocket science, it's alchemy."
The Willie's Stash series will present a variety of releases, personally curated by Willie Nelson, culled from decades of recording and touring, a singular career that's established Willie Nelson as an American musical icon.
December Day is Willie's fifth release since signing to Legacy Recordings in 2012. His last Legacy release, Band Of Brothers, was released in June 2014 and hit No. 1 on Billboard's Country Albums chart.
December Day is produced by Buddy Cannon and recorded by Steve Chadie at Pedernales Recordings Studio in Austin, Texas.
Musicians on the album include Willie Nelson (Trigger) and Bobbie Nelson (piano, B-3 organ) with Mickey Raphael (harmonica), Kevin Smith (bass), Bee Spears (bass), Billy English (drums, percussion) and David Zettner (acoustic guitar).
Willie Nelson and Sister Bobbie
December Day
(Willie's Stash, Vol. 1)
1. Alexander's Ragtime Band (Irving Berlin)
2. Permanently Lonely (Willie Nelson)
3. What'll I Do (Irving Berlin)
4. Summer of Roses / December Day (Willie Nelson)
5. Nuages (Django Reinhardt)
6. Mona Lisa (Ray Evans & Jay Livingston)
7. I Don't Know Where I Am Today (Willie Nelson)
8. Amnesia (Willie Nelson)
9. Who'll Buy My Memories (Willie Nelson)
10. The Anniversary Song (Al Jolson & Saul Chaplin)
11. Laws of Nature (Willie Nelson)
12. Walkin' (Willie Nelson)
13. Always (Irving Berlin)
14. I Let My Mind Wander (Willie Nelson)
15. Is the Better Part Over (Willie Nelson)
16. My Own Peculiar Way (Willie Nelson)
17. Sad Songs and Waltzes (Willie Nelson)
18. Ou-es tu, mon amour (Emile Stern & Henri LeMarchand) / I Never Cared for You (Willie Nelson)
---
Don't forget to follow our Spotify Playlist: