A Breach of Silence to join Drowning Pool on unLUCKy 13th Anniversary 'Sinner' Tour
|
Australian power-core metal pioneers A Breach of Silence are pleased to announce they will be joining Drowning Pool as support on their unLUCKy 13th Anniversary 'Sinner' tour. The tour will kick off on October 22nd in New Orleans, and is scheduled to wrap up November 26th in Joplin, MO. Other support acts are Like a Storm and Red Tide Rising.
"Drowning Pool have always been one of my favorite bands, and the Sinner album was a big influence for me", states guitarist Mat Cosgrove. "We're really honored that they've allowed us to be a support act, and we can't wait to come to the states and tear it up alongside them each & every night!"
A Breach of Silence have also just premiered a new track entitled T.P.N.E. The song is from their upcoming sophomore album The Darkest Road which will be released on October 7th through Eclipse Records (Mushroomhead, Bobaflex, Blowsight). "T.P.N.E. (The Party Never Ends) explains what it's like for us to be out on tour, playing to awesome crowds night after night" says lead vocalist Rhys Flannery. "For us, it feels like the party never ends". The opening verse perhaps explains this best- [So fill it up, fill it up to the top, 'cause tonight we're gonna party like Bon f*cking Scott]. Bassist Blair Layt continues, "when we're out on the road, every show really is like a party… we don't hide on our bus or backstage, we're out in the crowd hanging with fans, shaking hands, laughing and sharing stories… it doesn't get much better than that!"
The Darkest Road was produced by Fredrik Nordstrom and Henrik Udd (Bring Me the Horizon, Arch Enemy, In Flames, Opeth). Clocking in at over 56 minutes, The Darkest Road delivers fourteen tracks of technical, impressive songwriting that will forever be remembered as the band's defining moment in music history. A BREACH OF SILENCE is also currently wrapping up production on a music video for the title track 'The Darkest Road' which will premiere in the next couple weeks.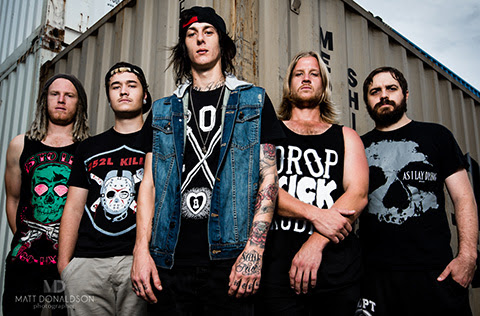 A Breach of Silence – USA tour dates w/ Drowning Pool, Like A Storm, Red Tide Rising
22-Oct – Jefferson, LA @ Southport Hall
23-Oct – Destin, FL @ Club LA
24-Oct – Jacksonville, FL @ Jack Rabbits
25-Oct – Mobile, AL @ Soul Kitchen
26-Oct – Cape Coral, FL @ Dixie Roadhouse
28-Oct – Fredericksburg, VA @ Hard Times
29-Oct – Virginia Beach, VA @ Shakas
30-Oct – Lynchburg, VA @ Phase 2
31-Oct – Fostoria, OH @ The New Nest
1-Nov – Macomb, IL @ The Outskirts
2-Nov – Sioux Falls, SD @ The District
4-Nov – Colorado Springs, CO @ The Black Sheep
5-Nov – Denver, CO @ Marquis Theatre
6-Nov – Grand Junction, CO @ Mesa Theatre
7-Nov – Salt Lake City, UT @ Murray Theatre
8-Nov – Las Vegas, NV @ LVCS
13-Nov – Seattle, WA @ Studio Seven
14-Nov – Spokane, WA @ Knitting Factory Concert House
15-Nov – Missoula, MT @ Stage 112
16-Nov – Billings, MT @ Babcock Theatre
18-Nov – Watertown, SD @ Original Bar and Night Club
19-Nov – Spring Lake Park, MN @ POV's
21-Nov – Racine, WI @ Rt. 20
22-Nov – Ringle, WA @ Q and E Expo Center
23-Nov – Joliet, IL @ Mojoes
26-Nov – Joplin, MO @ Rock 3405
---
Don't forget to follow our Spotify Playlist: