11-Year-Old Rock Sensations Nominated for 7 LA Music Awards
|
11-year-old twin brothers, Vittorio and Vincenzo of the rock band, V2 (pronounced V Squared) have just completed their debut studio album with legendary rock producer Ron Nevison and award nominations are already flooding their inboxes. The Los Angeles Music Awards just nominated Vittorio and Vincenzo of V2 with seven nominations. In the 24 year history of the LA Music Awards, no artist has ever been nominated in seven categories.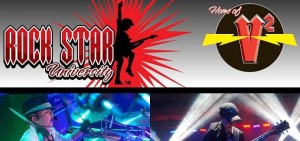 The LA Music Awards nominations include:
Record of the Year: WE ARE V2
Rock Album of the Year: WE ARE V2
Rock Artist of the Year: Vittorio and Vincenzo of V2
Hard Rock Band of the Year: Vittorio and Vincenzo of V2
Rock Single of the Year: Long Live Rock and Roll, V2
Guitarist of the Year: Vittorio of V2
Live Performance of the Year: V2 Live, Concert 2: Pass the Rock N Roll Torch
When asked how they felt about receiving an historical seven nominations for the 2014 LA Music Awards, Vittorio stated, "We are honored to receive the nominations and be recognized for all the hard work we put into our debut album." Adds Vincenzo, "We are really excited to have the opportunity to play a couple of our songs during the awards show. This is a dream come true!"
Ron Nevison is not surprised by the nominations. Says Nevison, "Having produced multi-platinum albums for some of the greatest rock bands over the last 40 years, I knew Vittorio and Vincenzo had a very special talent. Their song writing, musicianship and performance skills are off the hook for rockers even twice their age. These kids appeal to the over 40 crowd because they are playing new, original rock songs with a sound from the past that middle age adults appreciate and at the same time, V2 is introducing the 1970 – 1980's rock sound to their own generation. It's a one-two punch that creates a knock-out commercial success."
Al Bowman, the producer of the LA Music Awards, is equally impressed with Vittorio and Vincenzo of V2. "Never before in the 24-year history of the LA Music Awards, has anyone ever received 7 nominations. Vittorio and Vincenzo of V² are 11-year-old proteges born to carry the Rock N Roll torch for their generation. The LA Music Awards Nomination Committee was blown away by their debut album. We are really looking forward to this year's awards show on November 12, at the Avalon Theater in Hollywood. V2 will be playing the title track of their debut album, WE ARE V2 and their Rock Single of the Year nomination, Long Live Rock N Roll. These kids are an amazing talent and I predict their debut album will go platinum by this time next year if not sooner," says Bowman.
V2 (pronounced V Squared) was formed by Vittorio and Vincenzo when they were just 8 years old to play for their Catholic school talent show. The boys played AC/DC hits Back in Black, TNT, and Highway to Hell to the dismay of the school administration and the delight of their school mates. The boys were banned from ever repeating such a performance at their school, so the following year, at age 9, they thrilled 350 screaming fans with a 12 song set of six AC/DC covers and six original songs at Rock Star University Santa Rosa's HOUSE OF ROCK. Earlier this year, at age 10, a sold out crowd witnessed rock n roll history in the making when Vittorio and Vincenzo performed an 18 song set of 12 of their original rock tunes sprinkled with six AC/DC covers, including an unexpected grand finale as Night Ranger's front man, Jack Blades stepped from the audience, presented his personal guitar to the boys as a gift of thanks for keeping rock alive in the next generation and then belted out the vocals as the boys brought the house down with AC/DC's Highway to Hell.
Vittorio and Vincenzo's debut album, WE ARE V2 features nine original songs, plus a cover of AC/DC's High Voltage as a tribute another set of famous brothers, Malcolm and Angus Young, the founders of AC/DC.
When asked what their plans are following the LA Music Awards show in November, Vittorio states, "We will be back in the recording studio over Christmas break to record our second album." Adds Vincenzo, "And in February we will be recording our third, live concert DVD. Then we would like to open for AC/DC when they start their 40th Anniversary Tour. We hope their agent will call us. We're all tuned up and ready to play!"
---
Don't forget to follow our Spotify Playlist: