Steve Aoki Launches New Exclusive Show on SiriusXM
|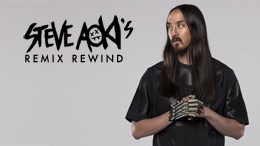 SiriusXM announced that world renowned DJ Steve Aoki will host a new weekly show on SiriusXM's BPM channel. Steve Aoki's Remix Rewind, hosted by Aoki, will feature the superstar DJ playing a listener-generated countdown; the songs, introduced by Aoki, will be remixes of the world's most familiar hits that receive the most votes according to subscribers.
Steve Aoki's Remix Rewind airs Sundays at 9:00 pm ET on BPM channel 51 via satellite and through the SiriusXM Internet Radio App on smartphones and other connected devices, as well as online at siriusxm.com.
"SiriusXM has always been a massive supporter of my music. We've been working together for years via my weekly mix show Aoki's House, but now we're expanding our collaboration with a new, interactive countdown show called Aoki's Remix Rundown. I love exposing people to new music as well as giving fans a voice so this interactive voting countdown seemed like the perfect fit," said Steve Aoki.
"Steve Aoki is one of the world's most recognized, successful and talented DJs. His new show will offer listeners exclusive access to the man behind some of today's biggest hits," said Scott Greenstein, President and Chief Content Officer, SiriusXM. "This addition to our massive lineup of exclusive programming in the electronic dance music world is another example of SiriusXM's commitment and leadership in one of music's most vibrant genres."
Steve Aoki previously had a show on SiriusXM's Electric Area, Aoki's House. Aoki's House is re-launching on Electric Area on Saturday, August 2, at 12:00 am ET on Electric Area channel 52.
Steve Aoki is a Grammy-nominated international producer/DJ, electronic dance music entrepreneur, and founder of the trendsetting record label, events/lifestyle company, and apparel line Dim Mak. Since launching in 1996, Dim Mak has broken bands such as Bloc Party, The Bloody Beetroots, Klaxons, and The Gossip through deftly marketed single and full-length releases and now has nearly 500 releases to date. As a solo artist, Aoki has become a force of nature averaging over 250 tour dates per year. Currently, Aoki is gearing up for the release of his second artist album NEON FUTURE I, scheduled for release September 30, 2014.
---
Don't forget to follow our Spotify Playlist: