Acclaimed Elvis Tribute Artist to Perform Memories of Elvis in Concert to Celebrate Life and Music of Elvis Presley
|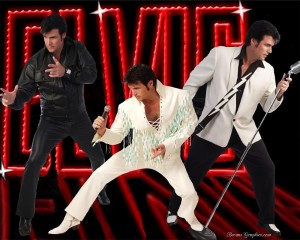 37 Years ago (August 16, 1977), we lost one of the greatest entertainers and pop culture icons of our time. Are you still lonesome for the energy, charisma and incredible voice of the King of Rock-n-Roll? Then head to the Broward Center for the Performing Arts, Fort Lauderdale, Florida, August 16th at 8pm for Chris MacDonald's Memories of Elvis in Concert a special memorial celebration of the life and music of Elvis Presley. Elvis Presley, recognized by TIME magazine as the "Artist of the Century," has sold more records than any other artist or group in the history of modern music. Even after death, his image and music continue to be loved and celebrated throughout the world. This July 5, 2014 will be the official 60th Birthday of Rock-n-roll commemorating Sun Records release of Elvis Presley's song "That's all right Mama". With recent number ones on Billboard and Great Britain's charts, songs featured in commercials (Heineken) and movies, a hologram in the works, theme nights on American Idol and major bio pics in the works, Elvis once again proves he is gone, but not forgotten.
Keeping the memory alive at countless venues throughout the country, Chris MacDonald lovingly brings back the magic of the "King of Rock-n-Roll" with his dynamic tribute complete with costumes and high-energy concert band. Chris's show is not an overdone impersonation. It is a heartfelt tribute by a true fan of the legendary performer and music icon. With strong natural vocals and stage presence, Chris MacDonald draws his audience in with the look, sounds, and nuances that made Elvis the King of Rock-n-Roll!
Stories of Elvis's incredible career and back story are shared by Chris directly with the audience similar to the very popular formula of the Jersey Boys. With this newly updated nationally touring production, the show will include costume changes and songs representing the different stages of Elvis's incredible career including the 1950's, the Movies, the 1968 Comeback and the 1970's White Fringe Vegas Concerts, bringing the audience even closer to the memories of Elvis. It's all a part of this loving tribute to the incredible story of the shy humble country boy who became the King of Rock-n-Roll.
Adding to the authenticity of his tribute, Chris has the honor of being the only tribute artist hired by Elvis Presley Enterprises to perform at Graceland's Heartbreak Hotel. An energetic and experienced entertainer, MacDonald has also starred in the famous LEGENDS IN CONCERT stage productions and has performed in Branson, MO, and Las Vegas, NV and sold out venues throughout the U.S. He has also performed in Concert with Elvis Presley's original back- up group The Jordanaires and D.J. Fontana. Get All Shook up with Chris MacDonald's Memories of Elvis in Concert at the Broward Center for the Performing Arts August 16th.
---
Don't forget to follow our Spotify Playlist: