Legendary Grateful Dead Guitarist Jerry Garcia's Former Estate For Sale
|
Prominent real estate broker Lori Saia Odisio has been selected as the listing agent for two prominent luxury homes in the affluent Marin County neighborhoods of Nicasio and Novato, California. Both listings include a rich musical pedigree that boasts celebrity notoriety including the former estate of legendary Grateful Dead guitarist Jerry Garcia. The second home is owned by a Multi-Platinum, Grammy-nominated record producer and includes a professional in-home recording studio designed by renowned studio designer Chips Davis. The in-home studio is the birthplace of multiple hit records for artists such as Whitney Houston, Celine Dion, Elton John, Aretha Franklin, Diana Ross and Kelly Clarkson, to name a few.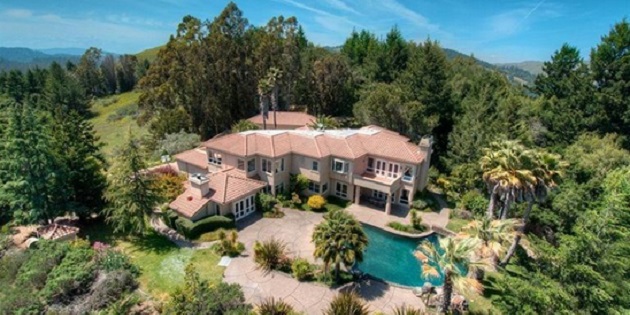 "Marin County is rich with iconic history and has been home to many rock stars," says Decker Bullock Sotheby's International realtor professional Lori Saia Odisio. "Being born and raised in this community, I have a vested interest in serving Marin's affluent clientele with an innovative approach to meeting my clients' unique needs throughout the entire process. I always provide a high quality, discretionary real estate service without compromising privacy. My attention to client detail is unrivaled and synonymous with the Sotheby's International Realty brand."
Ms. Odisio was born and raised in Marin County, and has over a decade of residential real estate experience ranging from escrow transaction, property staging, agency network relations and luxury property photography. She is on the board of a number of premier associations, including the Marin Athletic Fund, and is in the Marin County Athletic Hall of Fame and on the board of the Marin Athletic Foundation. Ms. Odisio is a graduate of the University of California Berkeley, a recipient of the National Presidential Sales & Marketing Award given by Miller Brewing Company and is a former High School All-American.
The two featured properties on the market by Odisio include:
55 El Mirador Drive Nicasio, CA 94946
Listing Price: $2,895,000.00
Features: Once home to legendary Grateful Dead guitarist Jerry Garcia.
Property notes – 5 Bedrooms, 7 Baths, 7,189 Sq. Ft.
29 Hampshire Way Novato, CA 94945
Listing Price: $1,099,000
Features: Professional in-home studio designed by renowned studio designer Chips Davis. The number of records sold that were created in this studio is over 120 million.
Property notes – 4 Bedrooms, 3 Baths, 3,963 Sq. Ft.
---
Don't forget to follow our Spotify Playlist: