Sziget Festival Add Madness, The Bloody Beetroots, Kelis, Band Of Skulls And More
|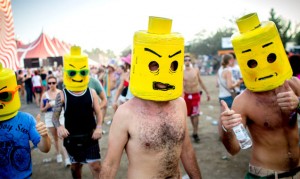 More names were added to the always colorful line-up of Sziget Festival. This year Madness, The Bloody Beetroots, Kelis and many more acts will join the already prestigious music program of the Island of Freedom. Sziget is held between 11-18 August in Budapest. Discounted passes are available until the end of July.
Sziget is definitely the place to be this summer if one is looking for fun and holiday together. The Island of Freedom is not just a music festival, it has many more to offer as the beautiful city of Budapest, non-stop fun and activities on the Island itself and a line-up that is suitable for music fans of all styles.
Madness is one of the main figures of ska music, formed in 1976 in Camden Town, London. They have already proved at previous Sziget Festivals that a real ska party is all about dancing and singing and this is what will happen this year as well. Madness is on a world tour now and visiting Sziget. The Bloody Beetrootswill also pump up the energies of the Szitizens. What we can expect is some hard-core electro house with a super energetic performance where thousands of people go crazy.
Kelis, the American pop icon, is one of the most wanted stars with her six albums and thirty-one singles. In the framework of Ninja Tunes, she released her new album this April called 'Food' and she is ready to bring some quality and diverse pop music to the Sziget community! Leningrad became the flag bearer of the 21st century underground scene in the region. The band's main thrust is ska spiced with punk, but also with Russian marches, dance and folk songs. Band of Skulls is a trio from Southampton, whose most recent album, Himalayan, was released this March, so the Sziget audience can enjoy the dynamic, but mystical music of the band of Russell Marsden. Meanwhile, Triggerfinger, Antwerpen's loudest rock band is back at Sziget! Their music can range from a more traditional, old school but dynamic and up-tempo approach to some soulful, heartfelt rock.
Deniz Koyu is the man behind hits like 'Tung', 'Hertz', 'Bong', 'Follow You'. His show will definitely be a must-see for those who are into progressive and electro house. Thomas Gold is also part of this year's prominent DJ scene. Since his debut in 2006, the German artist has emerged as one of the most widely admired producers in modern dance music. In addition, Quentin Mosimann has stamped his mark in the music industry as one of the new DJ/Producers emerging at the forefront of the French electronic music scene.
Black Sun Empire represents the finest in dark and tech fueled dance-floor drum & bass. Since bursting onto the scene back in 2000, they've continued to develop their own unique style and sound, releasing numerous singles as well as five full-length LPs and establishing themselves as leaders in the field. INVSN (pronounced "invasion") grew up from the subcultural landscape, driven by the passionate spirit of hardcore-punk and emboldened by the rich history of rock n' roll. The Swedish band delivers powerfully deliberate pop through a post-punk lens.
---
Don't forget to follow our Spotify Playlist: