Avatar to release 'Hail The Apocalypse'
|
Since the release of the latest album Black Waltz, Avatar have had massive success all over the world. The singles 'Smells Like a Freakshow and Let it Burn' peaked on #26 on US commercial rock radio charts, where they also stayed for several weeks well ahead of more established bands in the scene. This was followed by extensive and successful US tours. The biggest break through came when Avenged Sevenfold personally picked Avatar as support band on their sold out arena tour in Europe late 2013. Avatar got a reception far beyond expected by the crowds, which resulted in bookings on high profiled festivals such as Download Festival and Rock on the Range in 2014, among own headline dates of which most are soon sold out.
Now Avatar are up to date for the release of their new album 'Hail The Apocalypse' on May 14 through Gain/Sony in Europe and eOne in USA. The album was recorded in Karma Sound Studios, Bang Saray, Thailand, mixed by Jay Ruston (Stone Sour, Anthrax, Steel Panther) and mastered by Paul Logus (Volbeat, Clutch, Killswitch Engage). Avatar is by many described as a perfect mix between Rammstein, Alice Cooper and System of a Down – something the band now have developed further with the upcoming video for the title track 'Hail The Apocalypse'. Avatar have gained much attention when it comes to their creativity in videos, always self-produced.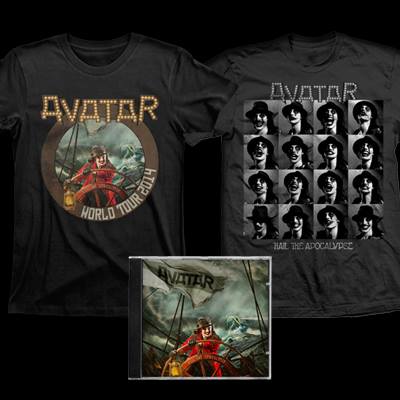 'Hail The Apocalypse' is a fresh wind in a conservative metal swamp, it stands for something unique, something unexpected and something that's been missing in the scene for the last decade.
Tracks
01. Hail The Apocalypse
02. What I Don't Know
03. Death Of Sound
04. Vultures Fly
05. Bloody Angel
06. Murderer
07. Tsar Bomba
08. Puppet Show
09. Get In Line
10. Something In the Way
11. Tower
---
Don't forget to follow our Spotify Playlist: