Legends Take the Stage for Maryhill's 2014 Summer Concert Series
|
Maryhill Winery & Amphitheater is pleased to announce a chart-topping lineup for the 2014 summer concert series, featuring some of the best-selling artists from the 70s and 80s. With dates set for August and September, three groups are set to take the stage at Maryhill Winery's picturesque amphitheater: ballad legends Styx and Foreigner, recent Hall of Fame inductees Peter Frampton and Buddy Guy, and iconic rocker Ian Anderson performing the Best of Jethro Tull. Tickets will go on sale to the public through Maryhill's website or Ticketfly (1-877-435-9849) on Friday, April 11 at 10 a.m., with prices ranging from $49 to $150.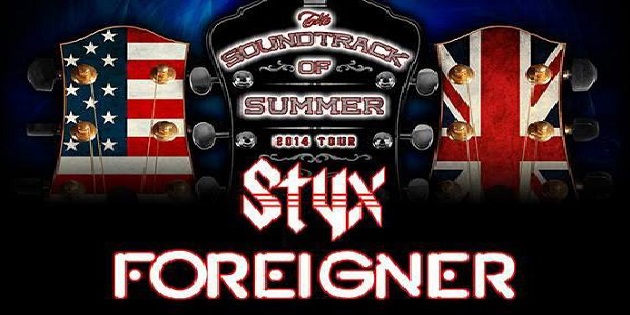 Located along the Washington border of the Columbia River Gorge, just 100 miles east of Portland, Ore., Maryhill Winery is lauded as one of the top destination wineries and most scenic music venues in the Pacific Northwest. With seating for 4,000 built into the natural slope of the outdoor lawn, Maryhill has been a popular summer hotspot for nearly a decade and continues to add new attractions, such as four world-class bocce courts and a Reserve Room, to make it the fifth most-visited winery in the state.
"The talent that has crossed our stage over the years has been incredible, and this year is no exception," said Craig Leuthold, owner of Maryhill Winery. "We started the summer concert series 10 years ago with a pop-up stage, but quickly realized that by combining great music with our stunning location and exceptional wine, Maryhill could become more than just a winery for our fans. It's now a tradition."
The summer concert lineup includes the following musical acts, with more artist information available at www.maryhillwinery.com:
Aug. 2 – Styx and Foreigner, 7 p.m.
Aug. 23 – Frampton's Guitar Circus featuring Peter Frampton and Buddy Guy, 7 p.m.
Sept. 13 – The Best of Jethro Tull performed by Ian Anderson, 8 p.m.
In addition to its summer concert series, Maryhill Winery also offers free live music on the terrace every weekend from 1 to 5 p.m., from Memorial Day through Labor Day. The winery's Tasting Room, which closes 90 minutes before gates open on concert days, is open throughout the summer from 10 a.m. to 6 p.m. daily, with the Reserve Room hours varying by season.
---
Don't forget to follow our Spotify Playlist: