Miss May I releases exclusive 'Rise Of The Lion' track by track video
|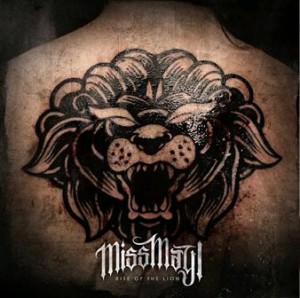 Modern metal frontrunners Miss May I will release their ground-breaking new full-length album, Rise Of The Lion, in North America on April 29, 2014 via Rise Records (April 28 in the UK, April 25 in Australia). In advance of its release, the band have just released an exclusive track by track guide to the record, featuring snippets of each song and frontman Levi Benton and bassist/backing vocalist Ryan Neff talking through each track. This can be viewed at www.MMIRiseOfTheLion.com now! Stay tuned for more exclusive material coming soon.
Rise Of The Lion is Miss May I's fourth album and the first to be produced by the legendary Terry Date (Pantera, Deftones, White Zombie, Bring Me The Horizon). The countless fan letters the band has received over the years are the inspiration for the tracks on Rise Of The Lion, and each track is written from the perspective of those fans or responses to them.
The worldwide release of Rise Of The Lion will be supported by a brief headline tour of the United States this April and May, with support from For The Fallen Dreams. Miss May I's "Up Close and Personal" Tour will stop in eight cities, including a closer in their home state of Ohio at Rock On The Range. Get this – each ticket price includes a copy of Rise Of The Lion hard copy CD!
After the resounding underground success of their debut full-length release Monument, Miss May I took a step beyond the metalcore world they had grown up in with the release of their album At Heart in 2012. The record, produced by renowned record producer Machine (Lamb Of God), proved to be one of the strongest and most surprising metal records of the last few years, spawning huge singles in the songs 'Hey Mister' and 'Day By Day'. Entering the Billboard Top 200 charts in its first week at #32, At Heart saw the band embrace a more mainstream metal approach to their music. During their 2012 Vans Warped Tour main stage onslaught, the At Heart campaign made massive leaps, seeing Miss May I nominated for 'Best New Talent' award at the Revolver Golden Gods Awards, as well as headlining the Alternative Press 2012 Tour, and picking up support at Active Rock Radio for the first time. On the live side, the band was hand-picked for tours with the likes of Five Finger Death Punch, Killswitch Engage and Bullet For My Valentine.
Miss May I U.S. Tour Dates:
4/29 Chicago, IL @ Beat Kitchen
4/30 Grand Rapids, MI @ The Pyramid Scheme
5/1 Pontiac, MI @ The Pike Room at Crofoot Ballroom
5/2 Pittsburgh, PA @ Smiling Moose
5/3 New York, NY @ The Studio at Webster Hall
5/4 Baltimore, MD @ The Ottobar
5/6 Philadelphia, PA @ The Barbary
/18 Columbus, OH @ Rock On The Range
---
Don't forget to follow our Spotify Playlist: