Gavin Degraw And Matt Nathanson Announce North American Summer 2014 Tour
|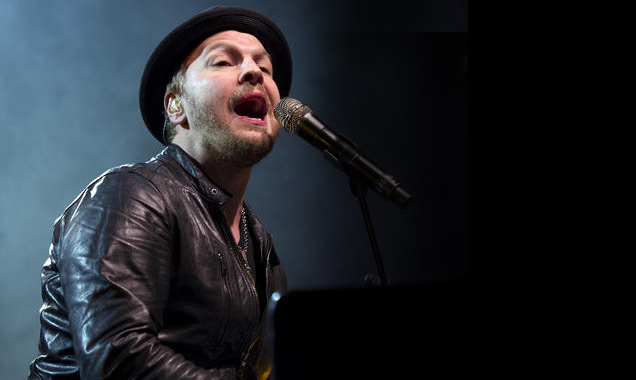 Multi-platinum, Grammy nominated recording artist Gavin DeGraw and acclaimed singer-songwriter Matt Nathanson have announced their co-headlining 2014 North American summer tour with special guests Mary Lambert and Andrew McMahon. Kicking off on Saturday, June 14th in Tucson, AZ, the tour will include a slew of dates in major US markets including San Diego, Los Angeles, New York, Philadelphia and Boston. Tickets for most markets go on-sale Friday, March 21st (full routing below).
Fans can expect to hear DeGraw perform songs from his acclaimed fourth studio album 'Make a Move', including the hit single "Best I Ever Had" and his latest smash "Make A Move."  The album has garnered rave reviews since its October 15th release with People Magazine describing the album's first single "Best I Ever Had" as "the kind of switch-up that brings fresh energy…"  while Entertainment Weekly raved about DeGraw's "intricate piano hooks and seductive, gravelly voice."  DeGraw is also scheduled to open a number of dates this summer for legendary performer Billy Joel.
Matt Nathanson has long been a fan favorite with his vivid songwriting, infectious melodies and dynamic live shows.  His latest album 'Last of the Great Pretenders' has been hailed as the 'Album of the Week' by USA Today adding "he has a way of drawing people into his stories." The album features the song "Heart Starts," the catchy theme to Lifetime's Series Celebrity Bucket List – of which Nathanson was recently featured -as well as the hit single "Kinks Shirtwhich continues to climb on the HAC chart and is also being heard on America's Top 40 with Ryan Seacrest, The Billy Bush Show and Rick Dee's Countdown.  The video for "Kinks Shirt" which premiered on RollingStone.com was directed by actor/comedian Bobcat Goldthwait.
Tour Dates:
Dates:                    City:                                       Venue:
6/13/14                Tucson, AZ                         Anselmo Valencia Amphitheatre
6/14/14                Las Vegas, NV                    Mandalay Bay Beach
6/15/14                San Diego, CA                    Humphrey's
6/18/14                Los Angeles, CA                Greek Theatre
6/20/14                Berkeley, CA                      Greek Theatre
6/21/14                New York, NY                    Madison Square Garden*
6/22/14                San Luis Obispo, CA         Avila Beach Concerts at the Cove
6/24/14                Redmond, WA                  Marymoor Park
6/26/14                Boston, MA                        Fenway Park*
6/29/14                Salt Lake City, UT              Red Butte Garden Amphitheater
6/30/14                Colorado Springs, CO      Pikes Peak Center
7/2/14                   Boulder, CO                        Boulder Theater **
7/3/14                   Kearney, NE                       Viaero Event Center
7/5/14                   Council Bluffs, IA              Harrah's Council Bluffs Hotel & Casino
7/6/14                   St. Paul, MN                       The Myth
7/9/14                   Kansas City, MO               The Crossroads
7/10/14                Cedar Rapids, IA               McGrath Amphitheater
7/11/14                Fargo, ND                            The Venue
7/16/14                Toronto, ON                       Sound Academy
7/17/14                Toledo, OH                         Toledo Zoo Amphitheater
7/18/14                Chicago, IL                           Wrigley Field*
7/19/14                Wisconsin Dells, WI         Crystal Grand Music Theatre
7/20/14                Indianapolis, IN                 Farm Bureau Insurance Lawn at White River State Park
7/21/14                Highland Park, IL               Ravinia Festival
7/23/14                Columbus, OH                   LC Pavilion
7/24/14                Cincinnati, OH                    PNC Pavilion at Riverbend Music Center
7/25/14                Rochester Hills, MI          Meadow Brook
7/26/14                Washington, DC                Nationals Park*
7/27/14                Portsmouth, VA                Ntelos Pavilion
7/30/14                Hollywood, FL                    Hard Rock Live
7/31/14                St. Augustine, FL              Saint Augustine Amphitheater
8/2/14                   Myrtle Beach, SC              House of Blues**
8/4/14                   Charlotte, NC                     The Uptown Amphitheater
8/5/14                   Raleigh, NC                         The Red Hat Amphitheater
8/6/14                   Glen Allen, VA                   Innsbrook After House
8/7/14                   New York, NY                    Madison Square Garden*
8/10/14                Vienna, VA                         Wolf Trap for the Performing Arts
8/12/14                Baltimore, MD                   Pier Six Concert Pavilion
8/13/14                New York, NY                    Central Park Summer Stage
8/15/14                Philadelphia, PA               Mann Center for the Performing Arts
8/16/14                Wallingford, CT                 Toyota Presents the Oakdale Theatre
8/17/14                Hampton Beach, NH       Hampton Beach Casino Ballroom
8/22/14                Clifton Park, NY                 Upstate Concert Hall**
8/23/14                Boston, MA                        Blue Hills Bank Pavilion
8/24/14                Hyannis, MA                      Cape Cod Melody Tent
8/25/14                Pomona, NY                       Provident Bank Park
*Gavin DeGraw Opening for Billy Joel
**Matt Nathanson Solo Date
---
Don't forget to follow our Spotify Playlist: