Hip Hop DJ Legends To Be Inducted Into Guitar Center's RockWalk
|
Guitar Center is proud to announce the inductions of world renowned hip-hop DJ icons Grandmaster Flash, Grandwizzard Theodore and Grandmixer DXT into Hollywood's iconic RockWalk. The joint ceremony will celebrate each of these accomplished musicians as they receive individual inductions at Guitar Center's Sunset Boulevard location.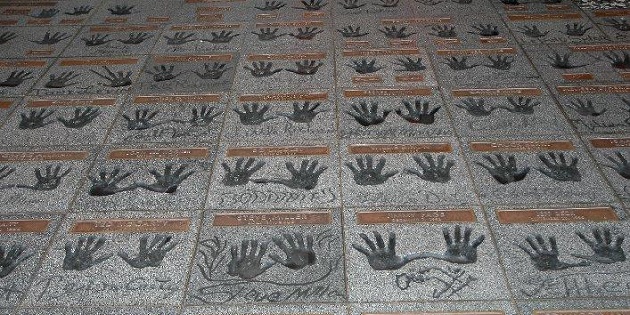 Guitar Center's RockWalk is dedicated to honoring those artists who have made a significant impact and lasting contribution to the growth and evolution of Rock 'n' Roll, Blues and R&B. As the newest RockWalk inductees,Grandmaster Flash, Grandwizzard Theodore and Grandmixer DXT's handprints will reside alongside the handprints, signatures, and faces of other equally accomplished musicians and innovators such as Eric Clapton,George Martin, Jimmy Page, Iron Maiden, Carlos Santana, Johnny Cash, Van Halen, AC/DC, Aerosmith, Marvin Gaye, James Brown, B.B. King, Stevie Wonder, Run-D.M.C. and Queen, among numerous others.
Further, Guitar Center and Serato have come together to announce a world-class new Serato digital music addition to their iconic Sunset Boulevard location, offering a permanent home for DJ's and aspiring music producers to demo and buy the latest products in the world-class line. The new Serato area will open its more than 400 square foot space with a special red carpet event open to the public on Thursday, March 6thhosted by Hip-Hop legend Jazzy Jeff.
The grand opening event not only coincides with the Guitar Center RockWalk inductions of the three hip-hop legends mentioned above, but also with the 25th anniversary of the first ever Grammy Award for Best Rap Performance, awarded to Jazzy Jeff and Will Smith for their hit "Parents Just Don't Understand". To celebrate the anniversary, the event will feature live in-store appearances by a surprise list of legendary Hip-Hop & Rap DJs including:
JAZZY JEFF
D-STYLES
DJ NU MARK
DJ P-TRIX
DJ RHETTMATIC
MR CHOC
DJ SHORTEE
GASLAMP KILLER
And many more…
---
Don't forget to follow our Spotify Playlist: