Lang Lang Celebrates The Chinese New Year With Three-Track Digital EP: "Happy Chinese New Year"
|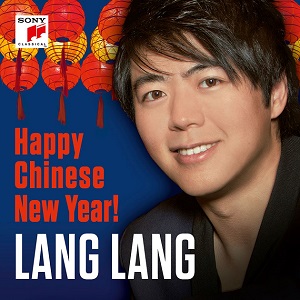 With a digital EP containing beautiful piano arrangements of three Chinese songs, Lang Lang celebrates the arrival of The Year of the Horse which falls on January 31 st. The digital EP contains a transcription of the Chinese song – "The Spring Festival Prelude", which is universally known as "the" New Year song amongst the Chinese community worldwide. To this Lang Lang adds piano arrangements of 2 songs of composer Zhi Qiang Wu "The Dance of Choral" and "The Dance of Waterweeds".
Lang Lang says "With this EP I want to wish all my friends around the world a very special Happy Chinese New Year. Everyone in China knows the Chinese Spring Festival Overture and the Chinese New Year Celebration simply wouldn't be the same without it."
January will also see Lang Lang's appearance at the 56th Grammy® Awards Show where he will be performing with American heavy-metal band METALLICA in their hit song "One". The song appears on their Grammy-nominated album Metallica Through the Never (Music From The Motion Picture). The televised ceremony will be held on Sunday, 26 January, 2014 and broadcast internationally.
Lang Lang, who began playing the piano at age three, performed at the opening ceremony of the 2008 Summer Olympics in Beijing, the 2009 Nobel Peace Prize ceremony for President Barack Obama and the Diamond Jubilee Concert of the Queen at Buckingham Palace in 2012. He was recently named United Nations Messenger of Peace with a special focus on global education. In 2008, he launched the Lang Lang International Music Foundation, with a mission to inspire and motivate the next generation of classical music lovers and performers, and to encourage music performance at all levels as a means of social development for youth, building self-confidence and a drive for excellence.
TRACKLIST
1. The Spring Festival Prelude
(Composer Huan Zhi Li / Arranger Yibo Yang)
2. The Dance of Coral
(Composer Zhi Qiang Wu / Arranger Mingxin Du)
3. The Dance of Waterweeds
(Composer Zhi Qiang Wu / Arranger Mingxin Du)
---
Don't forget to follow our Spotify Playlist: