Hard Rock launches signature series: Edition 32 KISS
|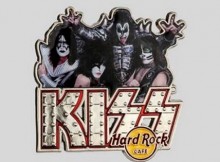 Hard Rock International today announced the launch of the brand's KISS Signature Series: Edition 32 T-shirt and collectable pin, in support of City of Hope. The limited-edition merchandise, a collaboration between Hard Rock, City of Hope and the 2014 Rock and Roll Hall of Fame inductees, includes a collectable pin and a T-shirt featuring an original design by KISS. These special-edition products will be available for a limited time in stores and online beginning in January 2014.
"Charity and giving back is everyone's obligation. Here's a great way to give and get something great in the process. Everybody wins!" said Paul Stanley, KISS co-founder. "KISS has always been committed to giving back, and these T-shirts are a fun way to do that," said Gene Simmons, KISS co-founder.
True to Hard Rock's "Love All-Serve All" mantra, a portion of the retail price from sales of the KISS Signature Series: Edition 32 products will benefit City of Hope in their worldwide effort to conquer cancer, diabetes, HIV/AIDS and other life-threatening illnesses. City of Hope touches lives around the globe, providing patients with the best medical care possible in an atmosphere of kindness and compassion. With Hard Rock's Signature Series: Edition 32 limited-edition merchandise, KISS fans can support City of Hope's mission to shorten the time from bold influential research ideas to powerful medical treatments.
"We are proud to support City of Hope by raising awareness and bringing encouragement to individuals and their families struggling with cancer through the Signature Series program," said John Galloway, Vice President and Chief Marketing Officer, Hard Rock International. "Hard Rock is honored to have KISS, legendary musicians and dedicated activists, join with us to raise funds and awareness for such an important organization."
The new Signature Series T-shirt ($26) features an image of the current members of KISS with signatures of each KISS member on the front. The KISS Signature Series Pin ($12) features a cutout of the KISS members with the Hard Rock logo. The limited-edition KISS Signature Series T-shirt and collectable pin will be available online at hardrock.com, at Rock Shops at Hard Rock Cafes, Hotels and Casinos worldwide beginning in January 2014.
"City of Hope is delighted to have KISS and Hard Rock Cafe support our groundbreaking research with the sale of these exclusive items," said Steven Martin, vice president of marketing for City of Hope. "Through the generosity of KISS and Hard Rock Café, our scientists are better able to accelerate the discovery of new treatments and cures and, in doing so, improve the lives of patients and families everywhere."
As part of Hard Rock's partnership with KISS and the launch of Hard Rock's KISS Signature Series: Edition 32 T-shirt and pin, KISS is taking over all Hard Rock Cafes, Hotels and Casinos. Guests can enjoy special live music events, KISS makeovers, KISSing booths and more, as Hard Rock gets KISS-ed at participating cafes throughout the month of January.
In addition, Hard Rock is encouraging guests and fans to share their KISS experience on social media. Whether posting photos of Hard Rock's KISS Signature Series: Edition 32 products, or showing off their KISS makeover, Hard Rock wants everyone to use the hashtag #HardRockgetsKISSed and share how they got KISS-ed this January.
Hard Rock's Signature Series Lineup
Hard Rock developed the concept of partnering with world-renowned musicians and bands to create and donate imaginative designs more than 20 years ago. These unique designs are reproduced onto T-shirts and sold at Hard Rock properties worldwide, with a portion of the retail price benefitting the artist's preferred charity. KISS joins a legendary roster of music icons – from U2, The Who, Bruce Springsteen and Eric Clapton, to Jon Bon Jovi, Linkin Park, Shakira, Ringo Starr and John Lennon – who have become part of Hard Rock's Signature Series program, which has helped to raise millions of dollars for charitable causes worldwide.
---
Don't forget to follow our Spotify Playlist: