Riverboat Gamblers announce January and February European Tour 2014
|
The anthemic Texan thrust of Riverboat Gamblers is storming its way to Europe in January and February to kick the new year off in style. Together with enigmatic frontman Mike Wiebe, Riverboat Gamblers will be playing extensively throughout Germany, as well as pit stops in Netherlands, Austria, Switzerland, Belgium, and Italy. Expect a truly wild and seductive live performance that seems to engulf audiences urging them to get involved. This is what a Riverboat Gamblers show does to people.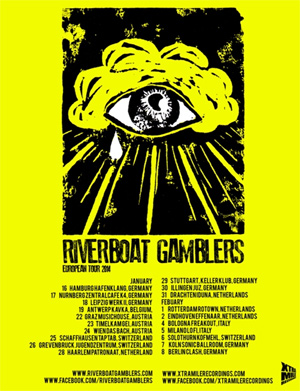 JANUARY
16 Hamburg Hafenklang, Germany
17 Nurnberg Zentralcafe K4, Germany
18 Leipzig Werk II, Germany
19 Antwerp Kavka, Belgium,
22 Graz Musichouse, Austria
23 Timelkam Gei, Austria
24 Wien Das Bach, Austria
25 Schaffhausen Taptab, Switzerland
26 Grevenbruck Jugendzentrum, Switzerland
28 Haarlem Patronaat, Netherlands
29 Stuttgart, Keller Klub, Germany
30 Illingen Juz, Germany
31 Drachten Iduna, Netherlands
FEBRUARY
1 Rotterdam Rotown, Netherlands
2 Eindhoven Effenaar, Netherlands
4 Bologna Freakout, Italy
5 Milano Lo Fi, Italy
6 Solothurn Kofmehl, Switzerland
7 Koln Sonic Ballroom, Germany
8 Berlin Clash, Germany
The triumphant punk-rock rallying call of 'The Wolf You Feed' cames out on vinyl earlier this year after its initial release in August last year. Teaming up with Grammy-Award winning engineer Stuart Sikes (The White Stripes, CatPower) for their sixth album, Riverboat Gamblers created a darker record than any of their back catalogue with hooks hefting hooks aplenty. Just a listen to the first fifteen seconds of the opener 'Good Veins' proves that this approach was entirely justified.
---
Don't forget to follow our Spotify Playlist: