Hard Rock International Opens First Ever Rocksino with Legendary Guitar Smash
|
Hard Rock International – owner of one of the world's most recognized, iconic brands celebrated the official grand opening of Hard Rock Rocksino Northfield Park in Northeast Ohio on Dec. 18, 2013. The first of its kind, Hard Rock Rocksino Northfield Park unveiled the newest Hard Rock International property, but also its latest gaming brand, the "Rocksino." Guests enjoyed "behind the velvet rope" access to the legendary guitar smash, which marks the opening of every hotel, casino and cafe worldwide, as well as a special performance by the award-winning Joan Jett and The Blackhearts.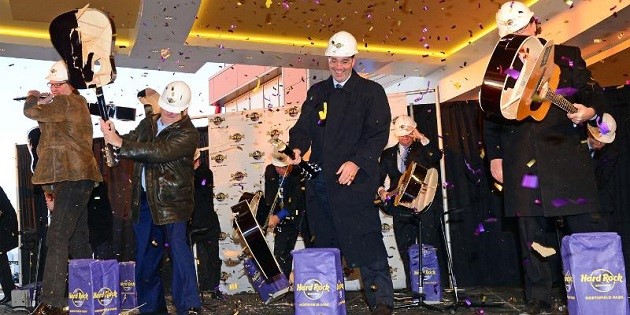 "We are thrilled to continue expanding the Hard Rock gaming brand with our newest venture, the Rocksino," said Jim Allen, chairman of Hard Rock International. "With fine execution, high quality service, classic Hard Rock vibe and custom memorabilia, we look forward to providing an incredible entertainment experience for guests and Hard Rock fans worldwide."
True to Cleveland's roots as the birthplace of rock 'n' roll, guests of the Rocksino are immediately greeted by 200,000 sq. ft. of music and a priceless collection of arena rock memorabilia throughout the entire property, including Eddie Van Halen's treasured red-hot motorcycle in the heart of the Center Bar. In addition to the celebration of the area's musical history, the Rocksino also serves as the premier entertainment and gaming destination in Northeast Ohio, located on the Northfield Park harness racing grounds, which is centrally located just 20 miles southeast of downtown Cleveland and 20 miles north of Akron, and offers more than 200 live harness races each year.
The undying spirit and limitless energy of the Hard Rock brand paired with Northfield Park's world-renowned racetrack makes for the birth of the area's most thrilling gaming and entertainment destination. The Rocksino offers more than 2,200 gaming devices with inside, as well as outdoor seating, and four flavorful dining options, including the world-famous Hard Rock Cafe and Kosar's Wood-Fired Grill, football legend Bernie Kosar's premium steakhouse. Guests are treated to the finest music offerings as the Rocksino boasts a Hard Rock Live music venue, the fifth of its kind, which will serve as a home to unforgettable encores by acclaimed musicians and sell-out crowds of up to 2,600 music lovers, in addition to hosting guests for a variety of functions and banquets. The Rocksino also offers The Club, a 300-seat live venue featuring comedians and illusionists that is also readily available for private parties and events.
As part of an ongoing effort of the Rocksino to represent the community of Northeast Ohio, a portion of all proceeds from the Grand Opening benefited three local charities: the Akron-Canton Regional Food Bank, Cleveland Food Bank and The Kosar Foundation, which provide food and other essential items to numerous hunger relief programs and local pantries throughout the region.
"We're proud to partner with our hometown charities, as part of our grand opening activities," said Jon Lucas president of Hard Rock Rocksino Northfield Park. "We have a steadfast, undying commitment to help make a difference in the community, and want our business and the community to be prosperous and thrive. Prosperous communities are great places to do business and to attract and retain talent. We will continue to invest our dollars, time, and resources to help our community partners make that happen."
Internationally recognized as a world-class entertainment and lifestyle brand, Hard Rock Hotels & Casinos offer stylish and contemporary design, unparalleled service and the thread that unites them all – music. Hard Rock's current Hotel and Casino portfolio is located in the world's most enviable resort destinations, as well as urban gateway cities. Hard Rock Hotels & Casinos cater to the evolving and distinctive needs of today's cosmopolitan, modern travelers, who seek a reprieve from traditional, predictable properties, whether for business or leisure travel.
---
Don't forget to follow our Spotify Playlist: