One Direction make history
|
One Direction's new album 'Midnight Memories' debuts at #1 on the Billboard 200 albums chart with over 546,000 copies sold this week. Once again, One Direction make U.S. chart history as the first group to ever have their first three albums debut at #1. This amazing U.S. debut comes hot off the heels of One Direction's massive international success, with 'Midnight Memories' becoming the UK's fastest selling album of 2013 and over the past three years. Around the world, the album entered the charts at #1 in over 26 countries including the UK, Canada, Australia, Belgium, Portugal, Spain, Ireland, Sweden, Turkey, Croatia, Czech Republic, Argentina, Colombia, Ecuador, Peru, Japan, Hong Kong, India, Indonesia, Malaysia, Middle East, Philippines, Singapore, Taiwan and Thailand.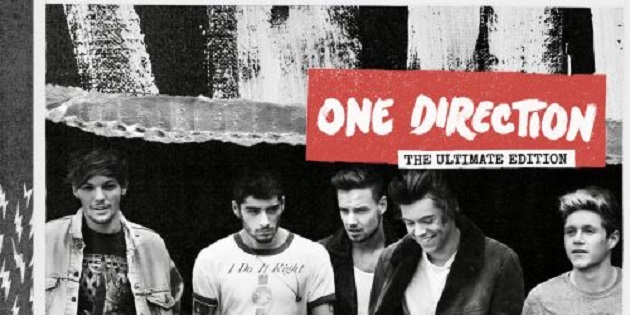 'Midnight Memories', which includes the #1 single "Best Song Ever" and the breakout hit "Story Of My Life," sees the boys taking on a greater creative role. The band has co-written 15 of the 18 tracks on the deluxe album and has reunited with long time collaborators Julian Bunetta, John Ryan, and Jamie Scott on the majority of the album.
One Direction's unprecedented and unique worldwide event, "1D Day," received a total of 3.5 million views and has been named the biggest YouTube music live stream ever. #1DDayLive dominated Twitter and trended for 8 hours, and 1.2 million people watched additional 1D content through Zapper. "1D Day" gave fans around the world a rare opportunity to enter into One Direction's world through a seven-hour live broadcast with the band, including special guests Robbie Williams, Celine Dion, Simon Cowell, Piers Morgan, The Muppets and many more.
One Direction fans took over Central Park on November 26 to celebrate the release of 'Midnight Memories' with a special performance on ABC's Good morning Amercia, which aired across 3 days and earned the shows biggest crowd ever. Other release week activities included the performance debut of "Story Of My Life" on FOX's The X-Factor and an electrifying performance at the 2013 American Music Awards, where the band took home 2 awards including Best Pop/Rock Album and Best Pop/Rock Group. Fans can catch One Direction as the performance guests on Saturday night live, Dec. 7 on NBC and on December 9 as their 'Midnight Memories' album release party with iHeartRadio will be televised on The CW Network at 9 p.m. ET with an additional airing Christmas Day.
2013 has been an astonishing year for One Direction as they've sold over 35 million records worldwide, achieved 64 number ones and played over 100 shows in 21 countries on their first ever world tour. They won a Brit Award for Global Success, and in August "Best Song Ever" was awarded "Song Of The Summer" at the 2013 MTV Video Music Awards. They also received the "Best Pop" award at the MTV EMAs and garnered two awards at the 2013 American Music Awards. This summer, One Direction made their cinema debut with their massive hit 3D concert movie and documentary 'One Direction: This Is Us.' The film has been a phenomenal success, topping the UK and U.S. box offices and grossing an incredible $68 million to date.
In early 2014, One Direction will embark on their global Where We Are 2014 stadium tour, which includes eleven sold out dates in the UK and Ireland. The 21-city tour hits North America next summer, kicking off August 1, 2014 in Toronto, ON at the Rogers Centre and includes stops in New York, Chicago, Los Angeles, Boston, Dallas and Miami, among others. Additional dates will be announced. Tickets will go on sale December 7 at www.livenation.com.
---
Don't forget to follow our Spotify Playlist: