Tony Bennett And Lady Gaga To Perform Together On Small Tour
|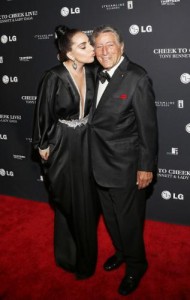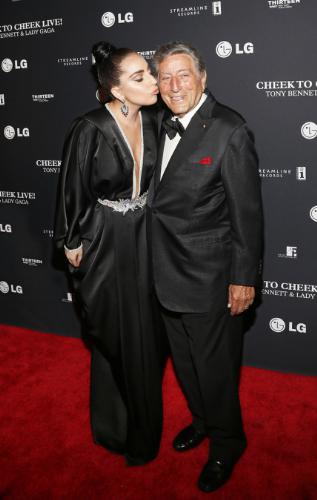 Following the immediate sell-out of their recently announced special evening at The Wiltern on Feb. 8 in Los Angeles. Live Nation is pleased to announce that TWO additional "once in a lifetime" concerts have been confirmed with Tony Bennett and Lady Gaga. In celebration of their new collaborative jazz album Cheek To Cheek, the pair of icons will join forces for two incredible evenings Saturday, May 30 at the Hollywood Bowl in Los Angeles and Friday, June 19 at Radio City Music Hall, New York.
Both artists will be accompanied by a full orchestra along with each artist's jazz ensembles who will also serve as special guests for the evening.
Cheek to Cheek debuted at #1 on the Billboard 200 charts upon its release on Sept. 23. Now at 88, Bennett remains the oldest artist in music industry history to have an album on the #1 spot on the Billboard charts. Cheek To Cheek marks Lady Gaga's third consecutive #1 album release in just over three years.
Cheek To Cheek features classic jazz standards sung by Lady Gaga and Tony Bennett in a combination of vocal duets and solo performances. From the title track to "But Beautiful" to "I Won't Dance," the record showcases the chemistry between the two artists, who span 60 years in age. As Bennett says, "What I really love about being a jazz singer is that jazz artists are very creative, very honest, from phrase to phrase," and Lady Gaga adds, "We wanted to make something that sounded perfect because of the quality of the emotion…the honesty." Cheek To Cheek also features the Lady Gaga solo "Lush Life," accompanied by Tony Bennett's solo of "Sophisticated Lady." The two songs complement each other, as Lady Gaga explains, "I loved making 'Lush Life,' Tony mentored me emotionally through the process," and Tony Bennett adds, "I sang 'Sophisticated Lady' to answer her on 'Lush Life,' and because Duke Ellington wrote it, who collaborated with Billy Strayhorn, the writer of 'Lush Life.'" Recorded in New York City, Cheek To Cheek took over a year to complete and features jazz musicians associated with both artists including members of Bennett's quartet: Mike Renzi, Gray Sargent, Harold Jones and Marshall Wood as well as pianist Tom Ranier. Jazz trumpeter Brian Newman, a long-time friend and colleague of Lady Gaga appears on the album as well with his NYC-based jazz quintet. Jazz soloists on selected tracks include tenor saxophonist Joe Lovano, trumpeter George Rabbai and flutist Paul Horn, who passed away in July.
TONY BENNETT AND LADY GAGA, TOGETHER LIVE CONCERT DATES
Dec. 31, 2014 Las Vegas, NV The Chelsea at The Cosmopolitan Sold Out!
Feb. 08, 2015 Los Angeles, CA The Wiltern Sold Out!
May 30, 2015 Los Angeles, CA Hollywood Bowl On sale
June 08, 2015 London, UK Royal Albert Hall On sale
June 19, 2015 New York, NY Radio City Music Hall On sale
---
Don't forget to follow our Spotify Playlist: