Sponsored Video: Warm, fashionable music from Urbanears and Pendleton
|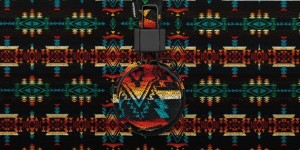 Winter is coming and guess what? It's going to be cold! Frustrating we know – especially when your ears get cold as it's your ears which are the most important part of your body. Why? Because we hear through them and as music needs to be heard these days, its one of the most important things in our lives.
So, what do we do? We protect them and get out the ear warmers – especially ones with integrated headphones! One of our favourites are from Urbanears, the renowned Swedish company. They teamed up this season with Pendleton of America to produce a fabric which was an ideal fit for their new Plattan Pendleton Edition – easy going ear warmers with an incredible sound while looking awesome too!
Cloaked in Pendleton fabric made from lightweight pure virgin wool, the Plattan Pendleton Edition features a unique and intricate pattern that's inspired by Native American blankets and textiles. And yes, they are so cool! This is the fifth headphone to be launched under the Urbanears Edition which has seen the ever popular Quilted, Denim, Harris Tweed and Re:Plattan versions. This new Edition is unique, a style infused with that little something extra – turning the ordinary into extraordinary.
Urbanears make music fashionably warm whilst listening to your favourite music. Oh, and whilst we're talking about being unique – we are offering a chance to win a trip for two to the Icehotel in Jukkasjärvi, Sweden!
This post is sponsored by Urbanears
---
Don't forget to follow our Spotify Playlist: