Andrea Bocelli Set to Enchant London at BST Hyde Park 2024
|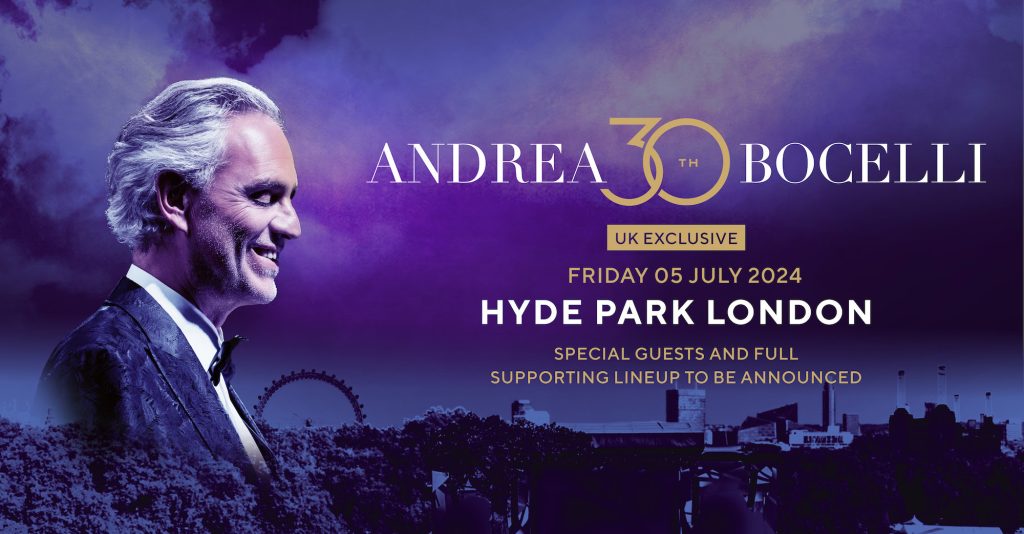 In a thrilling revelation, the organizers of BST (British Standard Time) have unveiled the first headliner for the upcoming festival at Hyde Park – none other than the incomparable Andrea Bocelli. Prepare to be swept away on a symphonic journey as this living legend takes centre stage at The Great Oak Stage on Friday, July 5, 2024.
A Maestro's Journey: The Andrea Bocelli Saga
Andrea Bocelli, an Italian tenor with a voice that transcends boundaries, has become synonymous with the epitome of musical excellence. Born on September 22, 1958, in Lajatico, Tuscany, Bocelli's journey to musical stardom is nothing short of extraordinary. Despite facing challenges and being visually impaired from a young age, his passion for music propelled him forward.
Bocelli's rise to fame began in the early '90s, and since then, he has conquered the hearts of millions with his emotive and powerful performances. His repertoire extends beyond the classical realm, seamlessly blending genres and defying expectations. From operatic masterpieces to contemporary hits, Bocelli's voice resonates with a timeless elegance that captivates audiences worldwide.
The BST Hyde Park Extravaganza
In July 2024, Hyde Park will transform into a haven for music enthusiasts, offering a day-long celebration of diverse musical talent. The festivities will culminate with the awe-inspiring performance of Andrea Bocelli on The Great Oak Stage. As the sun sets over London, the maestro's rich and emotive tones will fill the air, creating an enchanting atmosphere that promises to be unforgettable.
But the magic doesn't stop there – the organizers have teased special guests to join Bocelli on stage, adding an element of surprise and anticipation to an already spectacular event. This promises to be a night where classical and contemporary worlds collide, creating an unparalleled sonic experience for all in attendance.
A Glimpse Into Bocelli's Musical Legacy: A Short Discography
"Romanza" (1996): This album catapulted Bocelli into international stardom, featuring iconic tracks like "Con te partirò" (Time to Say Goodbye).
"Sacred Arias" (1999): An exploration of religious themes through Bocelli's masterful interpretations of sacred music.
"Amore" (2006): A testament to Bocelli's versatility, blending classical and pop elements seamlessly, with collaborations featuring artists like Christina Aguilera.
"Si" (2018): Bocelli's most recent studio album, showcasing his enduring vocal prowess and featuring duets with artists such as Ed Sheeran and Dua Lipa.
As we eagerly await the arrival of summer and the crescendo of music at BST Hyde Park 2024, the announcement of Andrea Bocelli as the headliner has set the stage for a truly magical evening. Secure your tickets, and be prepared to witness a musical extravaganza that transcends time and genre – an experience only a maestro like Andrea Bocelli can deliver. The countdown to July 5 begins, and with it, the promise of a night filled with unparalleled beauty and sonic splendor.
---
Don't forget to follow our Spotify Playlist: