A Night of Classic Rock Magic: Rod Stewart and Cheap Trick in Chula Vista, California
|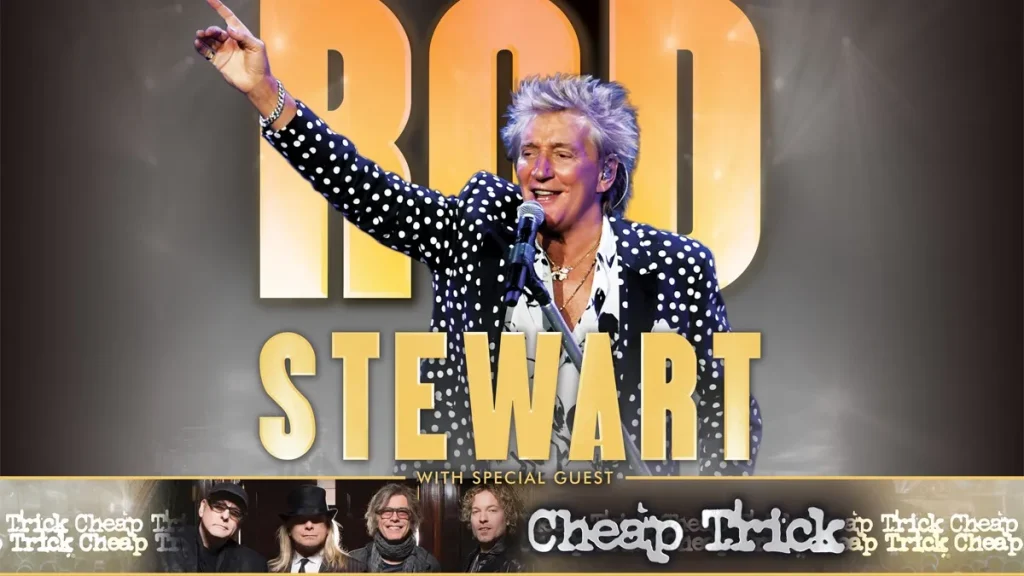 On a beautiful evening at the North Island Credit Union Amphitheatre, music lovers were treated to an unforgettable show as legendary British rocker Rod Stewart, accompanied by special guest Cheap Trick, took the stage. The venue, known for hosting some of the biggest acts in the San Diego area, was buzzing with excitement.
Cheap Trick
As the show kicked off with "Hello There," it was evident that this was more than just a concert; it was a journey back in time for many in the audience. Hits like "I Want You to Want Me," "The Flame," "Dream Police," and "Surrender" brought back cherished memories of the past and served as a reminder of why Cheap Trick became a beloved band for countless fans in their teenage years.
The setlist was well-curated, providing an ideal balance of crowd favourites and lesser-known gems. Each song was a testament to the band's enduring sound and their ability to capture the essence of rock 'n' roll. Guitarist Rick Nielson did wear a ball cap and had a collection of double-neck and multiple-neck guitars backing him up. Robin Zander looked like a rock star. Nielson's son Dexx, who manned the drumkit, added a touch of nostalgia with his gumshoe appearance, perfectly complementing the band's dynamic.
Throughout the night, the energy never waned, and the crowd remained hooked on every note, thanks in no small part to the charismatic presence of Robin Zander. His vocals transported everyone back to a time when Cheap Trick's music provided the soundtrack to their lives.
The highlight of the evening was undoubtedly "Dream Police," a song that struck a special chord with the audience, triggering a wave of fond memories and emotions. It served as a testament to the band's enduring legacy and their ability to connect with fans across generations.
As the night came to a close with "Goodnight," the cheers and applause were a testament to the band's staying power and their continued ability to put on a show that leaves the audience craving more. Cheap Trick proved that, even after all these years, they still have what it takes to deliver a rock 'n' roll experience like no other.
Rod Stewart
Then, it was time for the main act – the incomparable Rod Stewart. Defying his 78 years, Rod dove right into the music, delivering covers and originals in a non-chronological order that kept fans on their toes. He kicked things off with "Young Turks," a beloved favourite that resonated with the audience.
A touching moment came when Rod paid tribute to the Celtic Football club with his rendition of "You're in My Heart," and the band playfully kicked footballs into the thrilled crowd. The setlist, carefully crafted to please long-time fans, showcased classics like "Maggie May," "Tonight's the Night," and "Da Ya Think I'm Sexy?" interspersed with other crowd-pleasing covers.
Rod Stewart's energy was contagious, and he effortlessly switched between humour and sincerity throughout the performance. The backing musicians, including violinists, a harpist, singers, and a phenomenal saxophone player, added a magical touch to the already impressive sound of the band.
The tribute to late guitarist Jeff Beck, a nod to Tina Turner, and a moment of honour for the late Senator John Lewis showcased Rod's depth and respect for his peers and predecessors. The stage came alive as Rod revisited some of his songs from The Faces, the band where he once stood alongside Rolling Stones' guitarist Ron Wood.
One highlight of the evening was Rod's proclamation that he would change costumes as much as he pleased, "Because I can," which elicited laughter from the audience. His charisma, combined with the band's extended jams, left no doubt that this was a night to remember.
In conclusion, the gig by Rod Stewart at the North Island Credit Union Amphitheatre was a magical journey through rock history. With Cheap Trick's electric opening set and Rod Stewart's high-spirited performance, the night was an ode to classic rock and an affirmation of the timeless power of music. This show proved once again that age is no barrier to delivering an electrifying performance for fans who have cherished these iconic artists for decades.
---
Don't forget to follow our Spotify Playlist: