Lindsey Stirling enchants Cologne with her courageous performance
|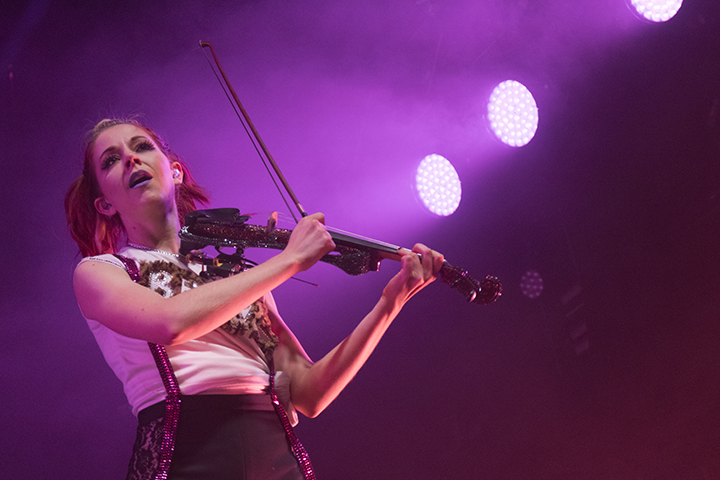 On a sultry summer evening, music lovers gathered at Roncalliplatz in Cologne to witness the highly anticipated concert by violinist Lindsey Stirling. After an absence of 4 years in Europe, the American artiste returned with her latest show, to conclude her European tour. The audience was in great anticipation, but was confronted with an unexpected turn.
Lindsey Stirling, known for her energetic performances, had to adjust her show due to illness. The audience, however, was understanding and supported her with warm applause when she opened up about her health problems. Her summer tour consists mainly of performances at outdoor European festivals, during which the 36-year-old American not only plays her violin, but also dances at the same time and even hangs from a trapeze every now and then. During her performance in Cologne, the trapeze remained unused and it was decided to perform an adapted version of her show.Despite the health challenges, Lindsey still gave an impressive performance. The set list offered a mix of well-known hits and some acoustic performances, including a moving version of 'The Arena'. She also had longer breaks between her songs to allow to catch her breath. While her violin playing wasn't quite as clean as we've come to expect from her, Lindsey showed her professionalism and dedication by continuing the show and surprising the audience.
Stirling also managed to surprise her audience with combinations of songs, for example by mixing 'Roundtable Rival' and 'The Upside'. With the majestic Cologne Cathedral in the background, Lindsey Stirling conveyed her signature energy and passion to the audience, despite the difficulties she encountered. It was clear that her fans were deeply moved by her perseverance and talent.
The highlight of the evening was during the encore, where Lindsey gave a mesmerizing performance of Led Zeppelin's 'Kashmir', enthralling the audience and ending the evening on a powerful note.
While the concert may not have been the usual spectacular show expected, Lindsey Stirling's performance in Cologne will certainly be remembered as a courageous and moving moment where a talented artist showed her passion and dedication, no matter the circumstances. It is to be hoped that she recovers quickly, because seeing Stirling perform at full power is really a spectacle.
---
Don't forget to follow our Spotify Playlist: