Mo' Horizons return with groove-heavy new album "Mango"
|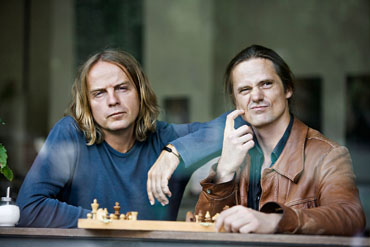 Mo' Horizons enter their seventh album chapter and remarkably, celebrate 25 years of their exultant and globally enriched, forward-thinking, electronic sound

Featuring a cast of guest singers, including Ghanaian legend Gyedu-Blay Ambolley, "Mango" is a fiery and sample-heavy blend of future-funk, balearic, highlife, Brazilian drum 'n bass and lo-fi hip hop, set to be released on their long-standing label Agogo Records on 20 October.
Familiar and warming sounds pervade "Mango"; the call of the Brazilian cuica, the snapping snares, rolling breakbeats, swooning sax licks, and dreamy beach vibrations. Yet there are brand new tricks; on "Havanna B-Boys" Arthur Lee's gravelly voice is sampled whilst a frenetic funk-ridden groove pulses, and the mesmeric vocal samples from Anglo-Portuguese singer Guida de Palma feature on opener "Anotha Bossa". Both shine as the album's singles. Outside Ambolley's contribution, further collabs sees Mo' Horizons reconnect with Venezuelan percussionist Nené Vásquez, Colombian singer Ivan Camelo, Hannover based, Israeli singer Noam Bar Azulay and Spanish singer Laura Insausti.
Spanning over three decades, German DJ and production duo Mo' Horizons, led by Ralf Droesemeyer, & Mark Wetzler have been a relentless force on the global groove scene. For 25 years, the pair have continued to grow their international audiences, testament to remaining on-point, ignoring the fashion and tribalism of scenes like big beat and broken beat, that thrived but then morphed and went off radar.
The duo were perhaps best known in the contemporary jazz-infected club culture of the early 2000s, alongside contemporaries like Gilles Peterson, Jazzanova, United Future Organisation, Kruder & Dorfmeister, Fila Brazilia and Dining Rooms. It was witnessing a live show of acid jazz pioneers Galliano, in their home city of Hannover in 1995, that would act as a turning point for the duo. At that moment, they were immersed in the record digging scene and it was to labels and compilations from the likes of Something Else, Wall of Sound, Acid Jazz and then Soul Jazz, Ninja Tune and Freestyle Records that would feed their insatiable appetite for new realms of music from all ends of the Afro-Latin-Brazil-Funk and drum 'n bass spectrum, sounds from those records that they would channel through the next 25 years of music production.
Their debut album "Come Touch the Sun" was signed by the Stereo Deluxe label, a game-changing German imprint that was sucking in all things acid jazz, nu jazz, big beat and downbeat at the time, with plenty of German artists in full view. With Mo' Horizons' deep love of Brazil, they were forever building bridges from Brazilian jazz- bossa and Rio samba, to electronic, sample heavy grooves. "Stereo Deluxe" proved a perfect home for the duo to experiment with, and so they made three records and various singles, and became fondly known as purveyors of 'bosshanover'.
Into the first decade of the 21st century the boys were DJing and performing round the world, yet continued to listen to as much music as they could, and it was to pioneering artists like Ninja Tune's DJ Food and Funki Porcini, Fila Brazilia, Japan's United Future Organization and St Germain from Paris the group were feeding from. In 2006, along with friend and fellow DJ Ralf Zitzmann, they founded Agogo Records, and began what was the beginning of a new family and an enduring relationship that leads them to their seventh album, Mango. Perfectly modest in his self-appraisal, Ralf Droesemeyer is extremely thankful about the gift of being able to live a life around music, something that began with 2 excited local DJs from Hannover, simply on a mission to reimagine new sounds they were encountering from their incessant record digging. The 7inch single "Mango Woman" featuring Blay Ambolley from Ghana, comes with a 7 inch mix & a remix by Sono Rhizmo.
---
Don't forget to follow our Spotify Playlist: