Kinks Legend and Rock & Roll Hall of Famer Dave Davies To Release New Album
|
The man who forever changed the sound of rock 'n' roll when he invented distortion, Kinks legend Dave Davies, has recorded a brand new solo album of all original material called 'Rippin' Up Time' on New York based Red River Entertainment. Produced by Dave Davies & David Nolte, the new CD features 10 original new songs written in the classic Kinks style that fans of all ages will want to hear.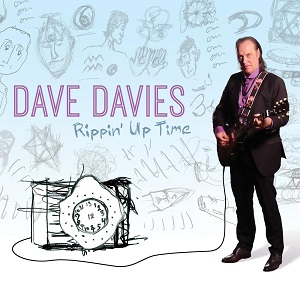 Dave Davies founded the Kinks in the early 1960's and forever changed music after he sliced up the speaker cone of a little green amp and created a revolutionary, distorted guitar tone and frenetic solo on the song "You Really Got Me". Musicologist Joe Harrington described the Kinks influence: " 'You Really Got Me', 'All Day And All Of The Night' … were predecessors of the whole three-chord genre … The Kinks did a lot to help turn rock n roll into rock." In 1998, writer Bill Crowley wrote, "As lead guitarist and founder of The Kinks, Dave Davies is one of the most unpredictable and original forces in rock, without whom guitar-rock styles including heavy metal and punk would have been inconceivable. A member of the Rock & Roll Hall of Fame, Dave's massive guitar sounds have inspired bands from Van Halen to Green Day."
Dave explains that 'Rippin Up Time' is about "a man's reflections of the past, his fears, anxieties and optimism about the present and hopeful expectations about the future. I had a lot of ideas in my head thinking about the past and how we started and the Kinks and my own life and the present and what's happening with my life now and concerns and worries, anxieties about the future. I suddenly had an image of all the times overlapping as if they're all in one place in my mind. I thought I'd just write it from the point of view of a dream. It's a mixture of emotions that I was going through as I was writing the songs, some would be happy or reflective or sad."
Hard hitting tracks "Johnny Adams", "Nosey Neighbours" and title track "Rippin Up Time" show Dave's classic riffs, distinctive singing and playing style while songs like "Semblance of Sanity" and "Mindwash" take the listener to otherworldly, inner landscapes. Dave's son musician/producer Russ Davies' appearance is a surprise treat with his smokey vocals on "In the Old Days" and "Through my Window". Says Dave, "It was wonderful working with my son Russ Davies and old friend David Nolte on this project and am really excited about the album." Dave's accent and cockney brogue gives a delightful English flavour to many tracks. He shows his sensitive side in the pensive, futuristic ballad "Between the Towers" while "King of Karaoke" takes a humorous look at many people's favorite pastime. David Nolte's musical contributions and thoughtful co-production throughout 'Rippin Up Time' reveals an inspiring creative collaboration. Former E1 and PolyGram executive Bob Frank's Red River label which is distributed via Sony RED in the US is proud to be releasing 'Rippin Up Time' due out on October 28, 2014.
In a recent interview with Andy Greene of Rolling Stone, Dave imparted, "I like to work quick. You want to attack an idea when it's living and breathing. I didn't want to reach the stage where I heard the songs so many times I began to second guess myself, which has happened in the past."
Since the early days, Dave Davies has worked on a slew of critically acclaimed records, ranging from solo hit single "Death of a Clown", to experimental Kinks records like 'Village Green Preservation Society' and 'Arthur' as well as the classic 'Lola' in the 70's. In the 80's Dave released experimentally prescient solo work like the eponymous album titled 'Dave Davies' or 'AFL1-3603' named after himself and/or the barcode symbol face cover art. His mainstream success continued in the 80's on hit Kinks albums 'Low Budget' and 'State of Confusion'. In the 90's he released more solo work such as 'Bug' and the compilation 'Unfinished Business'. His songs have been featured in films by John Carpenter and on TV shows like 'The Sopranos', which used his tune "Living On A Thin Line". His tell-all autobiographical book 'Kink' was well received in the late 90's as well. In recent years, Dave has collaborated creatively with his sons. In 2010 he worked with son Russell Davies in the Aschere Project to create the hauntingly, beautiful rock electronica album 'Two Worlds'. The film 'Mystical Journey', directed by son Martin Davies, narrates Dave's longtime interest in the paranormal, Eastern philosophies and spirituality (the film inspired Julien Temple s BBC documentary 'Kinkdom Kome'). In 2013 Dave released 'I Will Be Me' on Cleopatra Records. No matter how diverse the ambition, Dave Davies puts his heart and soul in all of his projects.
Ever the visionary legend always ahead of his time, from slashing up a speaker cone all those years ago to his new release 'Rippin In Time', Dave Davies, rocks the past, present and, no doubt, the future!
Tracks include:
1. Ripping Up Time
2. Semblance of Sanity
3. King of Karaoke
4. Front Room
5. Johnny Adams
6. Nosey Neighbours
7. Mindwash
8. Between the Towers
9. In The Old Days
10. Through My Window
---
Don't forget to follow our Spotify Playlist: