The Oddisee concert in Cologne, an unforgettable evening for hip-hop lovers
|
The air was filled with anticipation as the crowd gathered at Club Bahnhof Ehrenfeld in Cologne for the long-awaited and previously postponed concert by Oddisee, the talented Washington DC rapper with his backing band Good Company.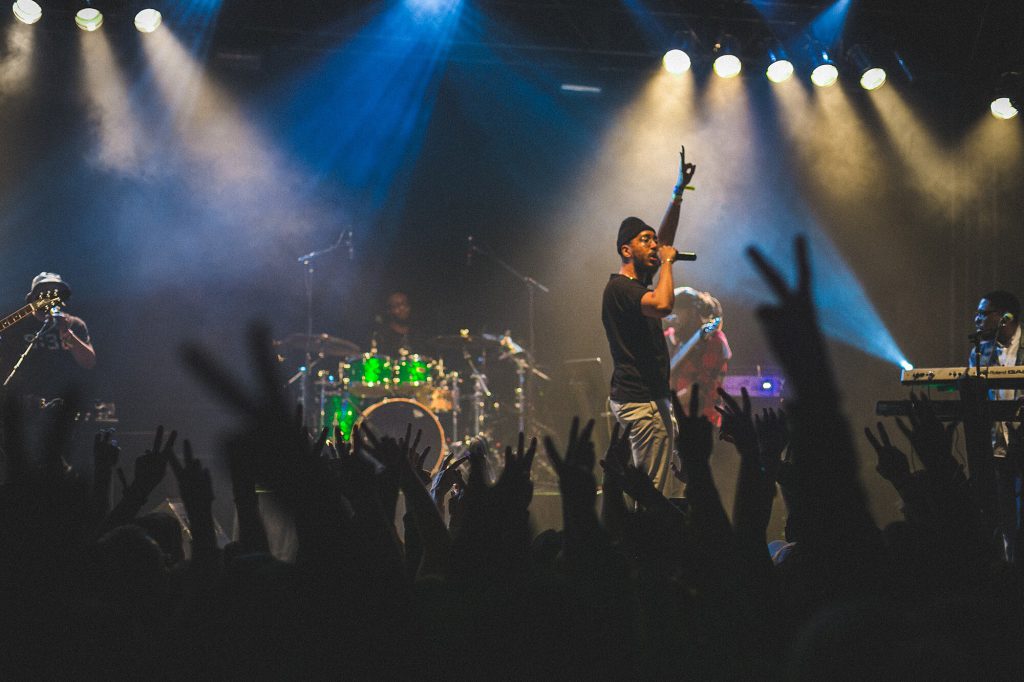 Before the main act took the stage under the train station, it was Ferge X Fisherman's turn. Ferge X Fisherman from Nuremberg showed how impressively and elegantly the balancing act between electronically produced hip-hop and live instruments can succeed. They combine the best of both worlds and make their music a dynamic, varied treat for fans of the crossover between nu soul and hip-hop/jazz. An eclectic mix of hip-hop, jazz, rap and soul has defined their sound since their first release in 2018. As a duo, they won over audiences without too much trouble, which wasn't a problem given the material from their last album, in particular, " Duality" is more than worthwhile.
After a short time to prepare the stage for Oddisee's performance, Richard Patterson aka DJ Unown, Good Company's regular DJ, slowly but surely began to heat up the hall with a wonderfully funky beat session. The venue was full of frogs who were in no mood to jump out of the evening's slowly boiling water. That screamed for more.
From DJ Unown's session, the evening flowed seamlessly into the performance of Amir Mohamed al Khalifa, aka Oddisee, the Washington DC rapper. Whilst I was expecting a lovely evening of mostly smooth beats and silky smooth West Coast rhymes, I was surprised to find Oddisee filling the room from the start with electrifying energy and an undeniable groove in which the GoGO funk was immediately recognizable. made to dance.
It was an evening of excitement, energy and raw talent from the moment Oddisee took the stage and put on a stunning performance that wowed the audience. With its unique blend of jazz, soul, rhythm and blues and hip-hop, Oddisee captivated audiences with its smooth flow, powerful lyrics and catchy beats. From the moment he took the stage, audiences knew they were in for something special as he effortlessly weaved together songs from his latest album, including "Work to Do" and "Race". His stage presence was undeniable, and he commanded the audience, who moved to every beat and sang along to every word.
Of course, the rapper couldn't help but point out the situation in his home country of Sudan, which is being torn apart by a military battle between two fighting warlords. Amir urged those present not to forget his country, as is happening with the situation in Ukraine. Talk about it, don't forget Sudan". A humanistic message that went straight to the heart of many.
Halfway through the performance, Oddisee teleported the entire hall to a battlefield as we know it from Eminem's film "8 Mile". A real freestyle battle with guys from the audience caused a lot of hilarity, not only for the spectators but also for Amir himself. A boy from Neuss (who came to freestyle in Cologne, respect!) prevailed and became his drunk friend kindly chased off the stage.
Club Bahnhof was filled with the sound of beats and music while Oddisee delivered a performance that will be remembered for a long time. All in all it was a musical night to remember and Oddisee's performance proved why he is one of the most talented rappers of our time.
---
Don't forget to follow our Spotify Playlist: