Joe Satriani at The Roma: intense and mind blowing
|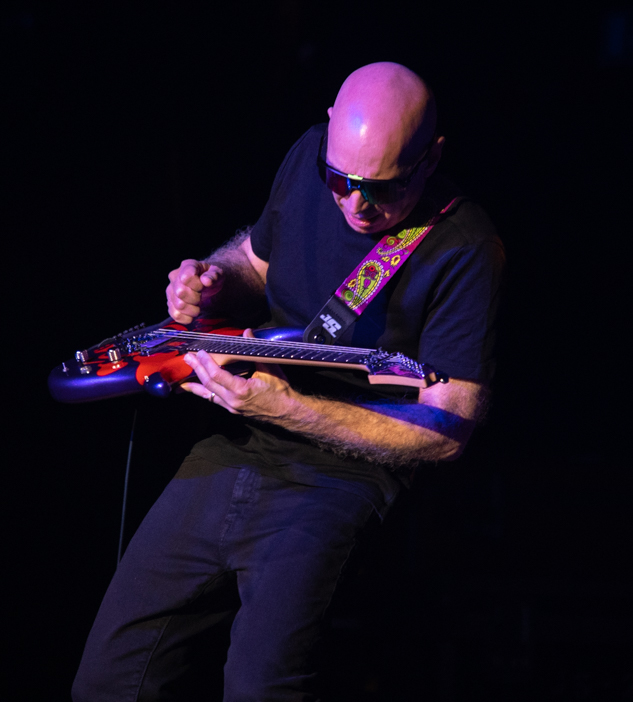 Joe Satriani (66) , among lovers of instrumental guitar music, doesn't need an introduction. For the people who didn't know him yet, Joe Satriani has set the bar of the technical level of virtuose guitar playing very high since the 80s and was also the mentor of some of the best guitar players (Kirk Hammett, Steve Vai and others) in the world. So you can say, he had a big influence on heavy guitar music styles, like heavy metal, speed metal, progressive metal and hard rock.
The Earth tour focused on a lot of European gigs and only had a few stops in the USA. The band of Joe Satriani had a concert in Antwerp, Belgium in the Roma venue on 16 April 2023. The line up consisted of Kenny Aronoff (70) on drums, Bryan Beller (52) on bass, Rai Thistlethwayte (44) on keyboard. The venue was sold out and it was a seated concert.
The set consisted of 2 parts with a break in between. We describe the highlights of the show.
The guitar was in front of the balance and the band had a supporting role for Joe, like usual on his studio recordings or live sets. The mind blowing set began with the song 'Nineteen Eighty" which was from an early album. Early work was interspersed with songs from the recent albums "Elephants of Mars" and "Shapeshifting". From the beginning of the set the audience were taken on an intense ride with the same energy as an F-18 airplane, feeling all the G-force, like in the movie Top Gun: Maverick (Top Gun 2) were Satriani was on the stick of the jet taken the audience from left to right and in spins of guitar sounds.
All the set the focus was on the screeching guitar of Satriani cutting through the air of the Roma like a razor blade. The band had chosen all the set for high speed technical guitar work with in between some slower songs during which the audience got a chance to get a rest from all the emotions they had gone through. Fans were delighted, Joe was even faster, sharper, more technical than the previous stop of Satriani in Belgium.
In 'Luminous Flesh Giants' Satriani got the freedom to improvise on the guitar with the support of a repeating lick of the bass guitar. With a jazzy feeling Satriani launched into a series of intense and intricate guitar solos that showcased Satriani's technical prowess. The set ended with his most known songs 'Always with me, always with you', 'Satch Boogie', 'Surfing with the Alien' and a crowd chant during which the audience stood up. Once you have seen Satriani live, you can't unthink him anymore. His guitar playing will always stay in your mind as a reference for all the other guitar players you will see live after him.
Photo's (c) Fred Stiens
---
Don't forget to follow our Spotify Playlist: