Phoebe Bridgers hits you to the bone
|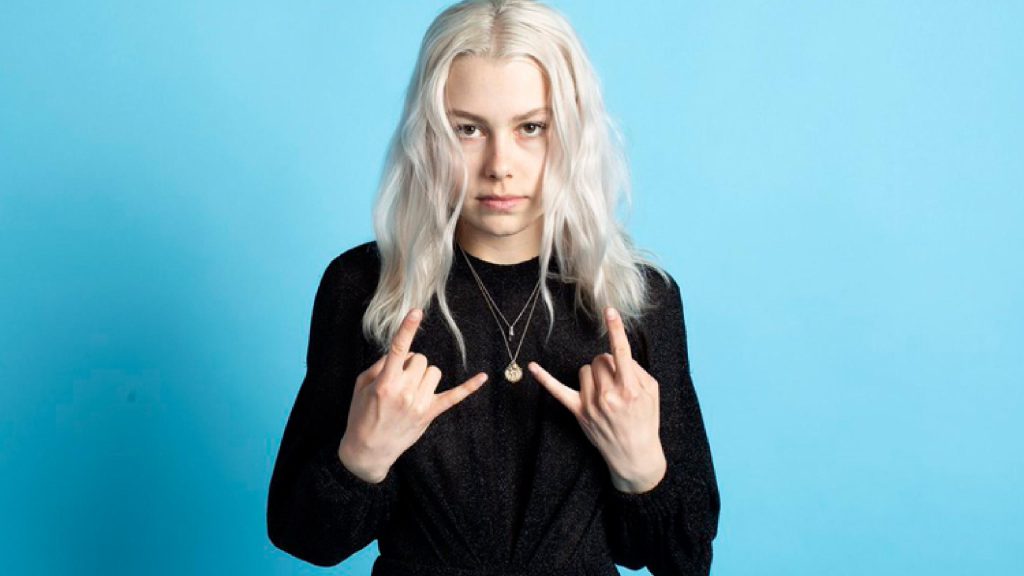 Despite her young age, 27-year-old Phoebe Bridgers is a celebrity in the global Indie landscape. A favorite of the press and the public, who opts for pure and sincere. With a loyal, largely young fan base. This status was confirmed last Monday during her concert in Cologne. Perfection doesn't exist, thankfully. But this came eerily close…
The beautiful hall of E-Werk is sold out with 2000 visitors for this 'Reunion' tour. While she was the day before at the infamous Lollapalooza in Paris, Phoebe Bridgers was now allowed to enrapture the former power station. For her fans, who often waited hours outside in the blazing sun to get a spot near the stage. And to be able to witness, probably unconsciously, the support act as well. And that was not a burden, on the contrary. The also American Sloopy Jane put on a show that would wake up the headliner in a sweat. Show, what that best describes the act of the band around singer Haley Dahl. Theatrical, but in the very best sense of the word, art rock was brought into the limelight. Songs as real stories, as plays, with plot twists and mood swings. Extremely clever and entertainingly portrayed by the front lady, who not only used the broad spectrum of her voice, but also her physical performance, clever in timing, facial expression and body language. It is right that Phoebe Bridgers proudly announced her support act on stage. To give them a role in her own set list later on.
A setlist in which Phoebe immediately put her cards on the table in the first three songs. Open, visible to everyone. The melancholic pop song "Down with Sickness" immediately set the tone drenched in melancholy and hope. To offer a glimpse of the inner man in "DVD Menu"/"Garden Song". And then beautifully play out the uptempo card in "Kyoto Song". 'A song for all fathers', as she announced herself. However, there were hardly any in a room that was mainly occupied by daughters. Most still teenagers, a few may have 'already' passed 20. An age of uncertainty, of vulnerability. Of searching for yourself and your place in an insane world around you. For them, Phoebe is not only an idol, but also a role model. A mirror and a guide in one. 'Some people say my songs are cool, but they aren't…', she says between two songs. 'And now the next sad song, full of misery'. She sings about her own life, about love affairs, sexual orientation and depression. 'But now I'm feeling fine.' Which is answered with amicable cheers and applause. Phoebe makes a nice connection with her audience. They share opinions, and Phoebe voices them. In her songs, but also in her comments between songs. Her clear opinion, no our clear opinion, about racism, gender equality, racism or American healthcare. But it never gets heavy. Not even in the songs, which are anything but light-hearted and are often sung along verbatim.
The blond singer uses a very natural, but also clever structure in both the set list and the songs. In her songs she often starts out very small from her acoustic guitar and her pure, intimate feeling vocals. To build the song into an eruption with small, subtle additions. Or to return to the small with a circular movement. Very pretty. And also beautifully performed by her band, who were well played and passionately colored the songs in their characteristic skeleton suits: black with a white skeleton printed on it. With a special role for JJ Kirkpatrick, who gave the songs an extra touch with his warm trumpet sounds, like a bath of warm bath, in which to drown, frankly, would be bliss.
Phoebe made a lot of contact and saw that it was good. She radiated herself and even went into the audience. No, not an act, but sincere. That's how it felt. The show never slackened because of this. You felt the emotion, you experienced the involvement. Together with the other 2000 who often projected her lyrics in a trance on their own lives. That's what made this performance so great. With songs from her two major albums "Stranger in the Alps" (2017) and "Punisher" (2020), with the song "Sidelines" from the series "Conversations With Friends" as a seamless addition. And as the grand finale "I Know The End". An example of how a slow starting song can go to a great climax, right down to the theatrical. No wonder that support act Sloppy Jane was asked on stage for this…
The circle was complete. But not before Phoebe gave an almost perfect performance of "Georgia" as an encore, just in a spotlight, only with a guitar, and her beautiful voice of course. Almost perfect, because there is no such thing as perfect. But this came eerily close. Phoebe Bridgers hits you to the core.
---
Don't forget to follow our Spotify Playlist: