Lady Gaga dances her ball at Tottenham Hotspur Stadium
|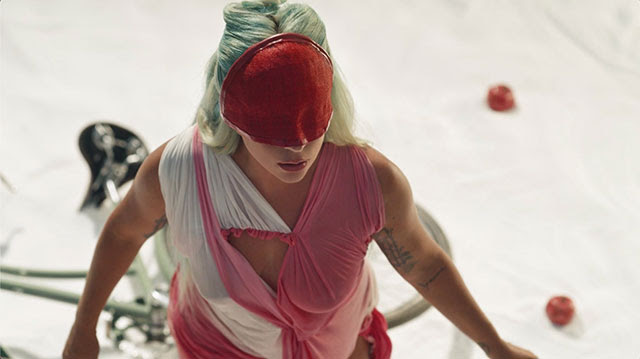 Lady Gaga is her stage name, her real name is Stefani Germanotta. You may know her for her number one songs like "Bad Romance", "Just Dance" and "Born This Way". Her dream was always to be an actress, and she was a leading actress in movies such as "A Star Is Born" (2018) and "House Of Gucci" (2021). Also, she co-composed the soundtrack of the movie Top Gun Maverick.
In May 2020 Gaga released the long-awaited album "Chromatica". Her fans were waiting for this since "ARTPOP". Her tour was announced really quickly after the album release, which was limited by six dates. Unfortunately, her tour was postponed by two years because of the covid-19 pandemic. She announced the new tour dates in March, all the original dates and also some more dates in Europe, the United States and even in Japan. The Tottenham Hotspur Stadium in London has been sold out for months.
Before she went on stage on her premiere night in Dusseldorf she explained what the stage would look like. She said: 'The stage was inspired by brutalist architecture, materials, textures, crudity, transparency. A real savage and hard look at yourself, and what you've been through.' and 'It's a ball, not a tour'. There weren't any opening acts announced, which she also didn't have on her "Joanne World Tour" (2018).
Lady Gaga opened the show with an interlude which was made by Nick Knight (director of all the interludes at "The Chromatica Ball"). The last time she worked with him was on "The Monster Ball" and it felt like a resemblance. The orchestral beginning (as in the music video) of "Bad Romance" was played, and Gaga sang the first sentence of the song. The crowd instantly enjoyed the show, while the first song blew up with pyrotechnics. She was wearing a latex bodysuit and armour. The singer was going to break free from the armour in the following songs, "Just Dance" and "Poker Face". The Lady was caught in the fame and she would like to live in freedom; Act 1 started.
Lady Gaga stood on a moving stage part while she sang "Alice". Her voice was unremarkable and clear. Her outfit was made from latex (Vex Latex) and she wore a dress by Topo Studio NY. Her most awaited song of this act was "Monster", which she performed in the same way as she did at "The Monster Ball Tour". She might be getting older the way she performed this song was irreplaceable. This act was done before she got to the darker part of the show, which was Act 2. She began with "911", which is about mental health, and her high notes weren't out of tune at all. Other hit singles like "Love Game" and "Telephone" came by and were fan favourites. Act 3 started with "Babylon", which is very ecstatic and unique, the live version is even better than the studio version. In this section of the show, she would like to celebrate fame and freedom, so she sang "Free Woman" while walking to the B-stage, where she performed her "Born This Way" in between a lot of flames.
'This is the piano section of the show,' she announced, and therefore she changed her outfit with insect glasses (like she wore in the booklet of "Chromatica"). Emotional moments in "Always Remember Us This Way" and "1000 Doves", were sung with lots of emotion and delicateness. She ended the smaller stage enjoying herself and her microphone stand while singing "Enigma".
The final act was announced, which was the part of celebration and dance. She asked the audience to stand up and dance while she was singing "Stupid Love" and "Rain On Me". Her ability to sing and dance at the same time was ridiculous and never disappointing. Finally, she ended the show with the encore "Hold My Hand". Her voice was a little bit tired, but she performed this song clearly after all. The story behind this tour was something we have seen at "The Monster Ball" and "Born This Way Ball". It is clear that this tour is a ball instead of a tour, because of its enormous storyline. Lady Gaga is a true popstar and maybe the last one we know in this format.