Frankie Valli & Four Seasons to release deluxe limited box set
|
With career sales of over 175 million records and their long-time membership in the Rock and Roll Hall of Fame, Frankie Valli and the Four Seasons have inspired fans and enlightened the music world for more than sixty years. For the first time ever, Madfish/Snapper Music presents the complete works of simply one of America's greatest musical exponents. A group who sang about the everyday tragedies and victories that they shared with their audience. A group of the people, for the people.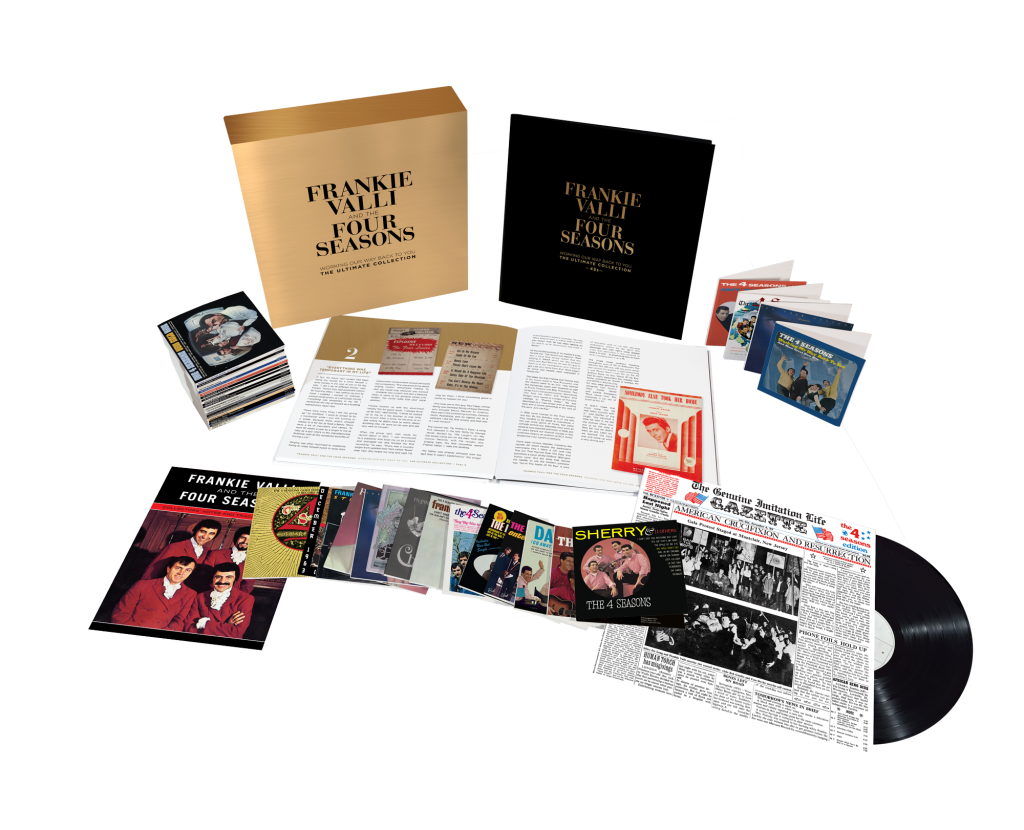 Rhythm and blues was barely even pregnant with rock 'n' roll when a Jersey boy called Francesco Stephen Castelluccio, (aka Frankie Valli,) took his first teenage steps in music. "Working Our Way Back to You" chronicles his every stride through a career of 195 singles and 31 studio albums across 44 CDs and 1 LP (a stunning multi-foldout reproduction of the original US packaging of "The Genuine Imitation Life Gazette vinyl" album, in its original mono mix, available for the first time ever.)
The package includes an extraordinary assemblage of unreleased treats (demos/alternate takes), rare treasures (vintage live recordings) and long-unavailable mixes, including much sought after tracks the group cut for Motown. The box set also includes a 144-page hardback book, a separate singles book showing a multitude of picture sleeves from around the world, and a book of Collectors notes, penned by Four Seasons Appreciation Society's Ken Charmer.
The hardback book, authored by lifelong Four Seasons fan Paul Sexton follows the group's story from humble New Jersey beginnings to the opening of the award-winning Jersey Boys musical on Broadway. Also included are over 50,000 words of interviews by New York Times Best Selling author Ken Sharp with Four Seasons members Frankie Valli, Bob Gaudio, Tommy DeVito, Joe Long, Lee Shapiro and John Paiva, producer/collaborator Bob Crewe, arranger Charles Calello, key songwriters and session players.
The full list of contents is as follows:
44 CDs documenting a career from 1961 to 2016 featuring 31 newly remastered studio albums and all of Frankie Valli and the Four Seasons' worldwide singles
Over 800 tracks including bonus live albums, demos, outtakes, B-sides and more
A replica triple foldout US-only sleeve issue of The Genuine Imitation Life Gazette LP (available for the first time ever on mono vinyl)
A lavish hardback coffee table book that tells the full story of Frankie Valli & The Four Seasons by long-time Seasons expert Paul Sexton, including extensive interviews conducted by New York Times Best Selling author Ken Sharp and written contributions from Brian Wilson, Barry & Maurice Gibb and Billy Joel
A portfolio chronicling single & EP sleeves from around the world, including chart placings
A Collectors Notes Book from Four Seasons Archivist Ken Charmer
Compiled with full cooperation and support of Frankie Valli and Bob Gaudio
---
Don't forget to follow our Spotify Playlist: