Mando Diao announce 11th studio album and major European tour
|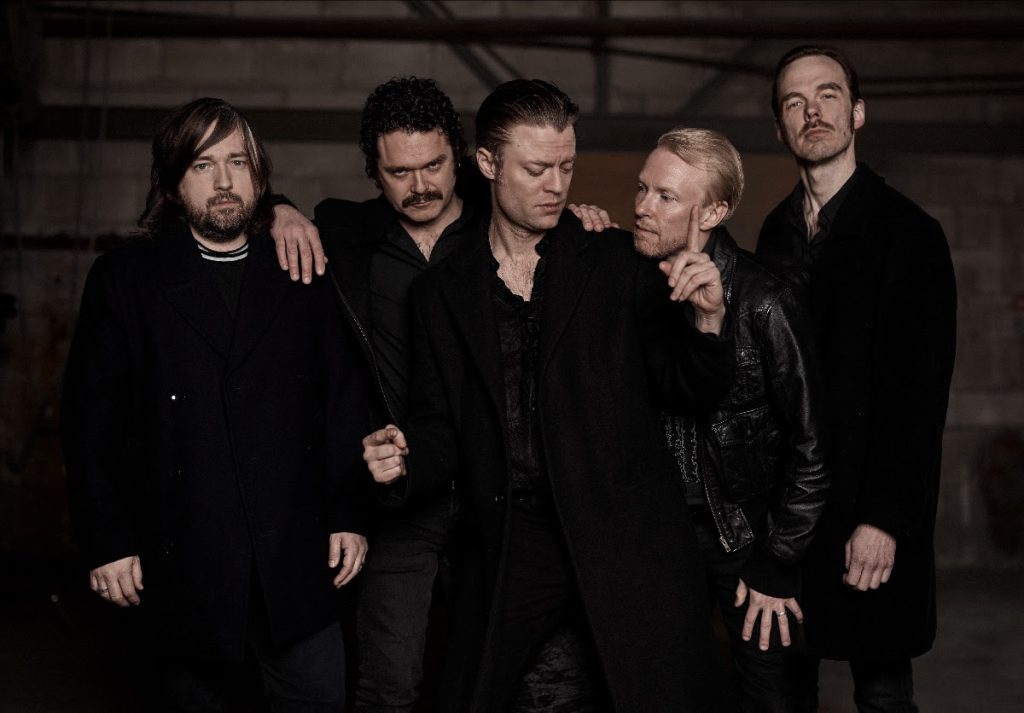 Mando Diao have always been free spirits. They have always gone their own way, resisted authority and enjoyed the hedonistic side of life, elements which have contributed to the band's successful and musically extensive career which celebrates its 20th anniversary this year. The character Boblikov, the symbol of Mando Diao's new studio-album "Boblikov's Magical World", represents the persona we all carry inside of us that likes to turn things upside down – the little devil on our shoulders. He isn't evil; he's simply looking for advantages and to manipulate things in his own favor. As the mastermind behind his enterprise, he is not usually in the spotlight. This anonymity gives him a sense of security and respectability even though he is involved in some shady business.
After a long and triumphant Swedish tour following the release of the #1 bestselling, gold-record awarded album "I solnedgången", Mando Diao regrouped in the studio together with producer Charlie Storm with the goal of creating an unpretentious rock album. The songs – heavy with riffs, messy guitars, powerful drums and bucketloads of energy – have been released in portions in the form of EPs, and now, the two first volumes will be completed with a third EP and a compilation album. Songs like "Frustration" and "Fire in the Hall" have enjoyed major success on international and Swedish rock radio, and the band has been seen on the stages of the biggest European rock festivals.
"Boblikov's Magical World" invites the listener into a fictional world where the schemer protagonist rules over a group of agents spread out across the world, agents who receive instructions from Boblikov himself to carry out evil deeds. The overarching theme is further amplified by both the cartoon covers and the visualizers. Mando Diao invite you into this parallel universe. "Boblikov's Magical World" will be released April 28th through Playground Music Scandinavia worldwide.
Mando Diao Tour
This summer, Mando Diao will be playing several big and selected festivals and shows, including Lollapalooza in Stockholm as well as Dalhalla, Gothenburg and Malmö together with The Hives and The Sounds, as well as festivals in Switzerland and some selected headline shows in Germany.
19.07. – (DE) Tuttlingen, Burg Honberg
20.07. – (DE) Erlangen, Kulturinsel Wöhmühle
23.08. – (DE) Bochum, Zeltfestival Ruhr
25.08. – (CH) Arbon, Summerdays Festival
26.08. – (CH) Spiez, Seaside Festival
The European live-tour kick-starts Nov 24th in Warsaw, Poland and will take the band through to 8 countries and 17 cities up to Dec 16th when it ends in Paris, France.
24.11. – (PL) Warsaw, Proxima
25.11. – (PL) Krakow, Kwadrat
16.11. – (CZ) Prague, Lucerna Music Bar
28.11. – (DE) Berlin, Columbiahalle
29.11. – (DE) Hamburg, Sporthalle
01.12. – (DE) Dresden, Alter Schlachthof
02.12. – (DE) Munich, TonHalle
04.12. – (AT) Vienna, Arena Wien
05.12. – (CH) Zurich, Komplex 457
06.12. – (DE) Wiesbaden, Schlachthof
08.12. – (DE) Stuttgart, LKA Longhorn
09.12. – (DE) Cologne, Palladium
10.12. – (LU) Luxembourg, Den Atelier
12.12. – (NL) Amsterdam, Paradiso
13.12. – (NL) Nijmegen, Doornroosje
15.12. – (UK) London, O2 Academy Islington
16.12. – (FR) Paris, Le Trabendo
---
Don't forget to follow our Spotify Playlist: