Premiere: Steve Lukather – When I See You Again
|
Steve Lukather, the string virtuoso of Toto, has announced the release of a new studio album titled "Bridges" on June 16. The album features many former members of the Toto family tree, including David Paich, Joseph Williams, Simon Phillips, Shannon Forrest, Lee Sklar and Steve Maggiora. Luke's oldest son, Trev Lukather, and Gov't Mule bassist, Jorgen Carlsson, also participate. The first single, titled "When I See You Again," will be released today along with a lyric video. The album is meant to be a bridge between Luke's solo music and the old familiar Toto sound and is a collaboration with his old friends.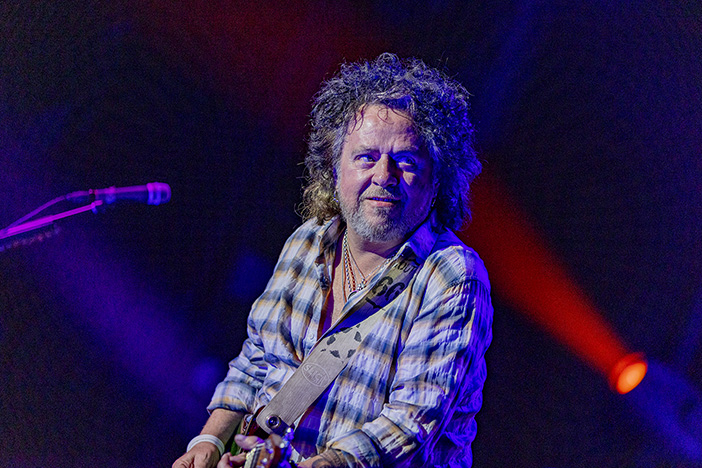 Due to various, especially legal entanglements, it is no longer likely that fans will ever be presented with a new album under the band name Toto, but Lukather wouldn't be Lukather if he didn't still make an album that comes, shall we say, close to a real Toto album.
If his previous album from 2021 "I Found the sun again" was still a bit of a loosely made album, the new single 'When I See You Again' promises a somewhat different approach.
Over the course of five decades, Steve Lukather has left an indelible mark on pop culture. In addition to his time as the only member of Toto who never took a break from the band, he has collaborated on thousands of albums as a session musician. Among these musical contributions are some of the most successful, influential and famous albums of all time, including Michael Jackson's Thriller. In addition, he released a biography entitled 'The Gospel According To Luke ', a worldwide bestseller. He remains the bandleader of The Dogz of Oz, the reincarnation of Toto, and a member of Ringo's All-Starr Band, in addition to his career as a solo artist.
Toto has enjoyed a celebrated worldwide resurgence over the past decade. The band performed to nearly a million fans in the past year alone. Their repertoire has over 3 Billion streams on Spotify alone, with the hit "Africa" alone competing for a billion plays. Album sales exceed forty million copies. Toto is one of the few 70's bands that have weathered changing trends and styles, and after 45 years of their career, they enjoy a multi-generational fan base and continue to play sold-out shows around the world. Toto was inducted into the Musicians Hall of Fame and Museum in 2009.
Today, Lukathers new single, "I Found the sun again" will be released and this new single you can hear itfirst at Maxazine!
Photo Steve Lukather : Eus Driessen
---
Don't forget to follow our Spotify Playlist: