Nickelback – Get Rollin'
|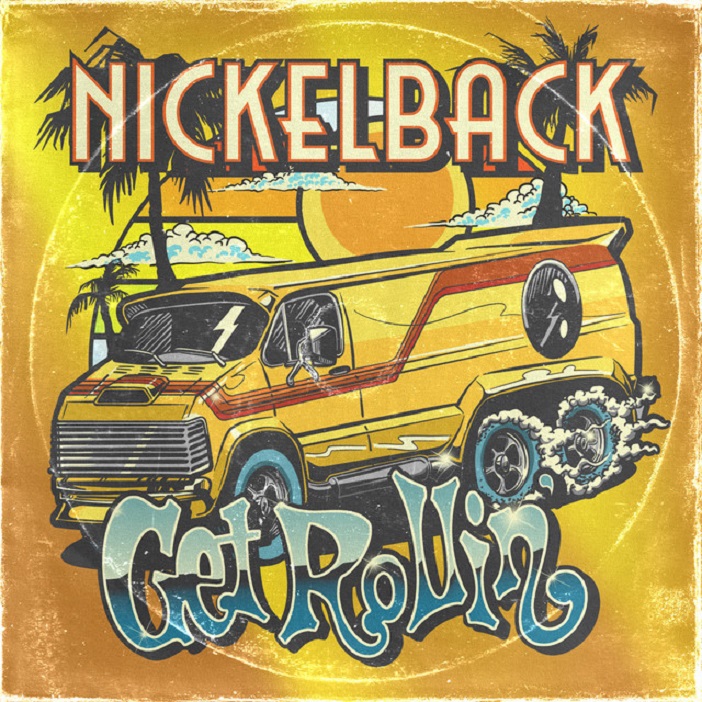 They have long been the 'most hated rock band in the world'. And in 2013, readers of the music magazine Rolling Stone voted Canadian Nickelback as the second worst band of the 90s (Limp Bizkit was rightly ranked third, Creed one). Not that the band was bothered by that, because the hits ("How You Remind Me", "Photograph", "Rockstar" among others) piled up and their concerts sold out. But it's easy to hate the band: the slick thirteen-in-a-dozen songs radiate little more than 'commercial'. But they sing along nicely and there is clearly a market for them.
More than five years after "Feed the Machine", this "Get Rollin'" is running its virtual circles on my computer. Even though I've played the album ten times, it still slips in one ear and out the other just as easily. The smooth, somewhat overproduced radio sound, the 3 to 4 minutes standard format of verse-chorus and the lack of new angles rarely make the ears prick up. Anyway, it's not prog rock, so Nickelback has to be valued on its own. And that is on nice sing-along pop rock songs, cut as musical wallpaper during a long car ride or vacuuming. And the album is full of that.
The single "San Quentin" opens the album quite heavily. The heavy bass supports the recognizable vocals of Chad Kroeger and the slick sing-along chorus does the rest. This is undeniably Nickelback. The full production of regular Chris Baseford is polished as always, but because of that, it rolls out of the speakers nicely. The following "Skinny Little Missy" is a bit slower and has a catchy, but not too captivating chorus. Then I prefer to hear the semi-acoustic "Those Days", which with its country slant will certainly produce the next hit. The easily digestible "High Time" also rubs against this cowboy sound and is also perfect for the American housewife.
The tempo and the proportion of electric guitar go up a bit in the somewhat monotonous "Vegas Bomb", after which the first real ballad follows through the unobtrusive "Tidal Wave", which is reminiscent of Def Leppard. The acoustic "Does Heaven Even Know You're Missing?" is also a ballad, but immediately sticks with its beautiful exuberant chorus. Great song and an outlier! After that, the excess does damage, because with "Steel Still Rusts" another ballad comes along, although this one is much too trite and smooth for me. At the end of this "Get Rollin'" we can still hear the light trivial "Horizon", the smooth and fairly strong instant sing-along "Standing In The Dark" and the "Just One More", again referring to Leppard, can be closed inconspicuously.
Well, this fast food rock is all going well and there is not much to argue with in terms of quality, all Nickelback boxes are ticked for that, but to say that it is an ambitious masterpiece, no. It remains to chew gum rock, quite tasty while it lasts, but the taste is gone in no time. As I said, great background music. (7/10) (BMG)
---
Don't forget to follow our Spotify Playlist: