Peter Frampton bids farewell to European crowds for good in Düsseldorf
|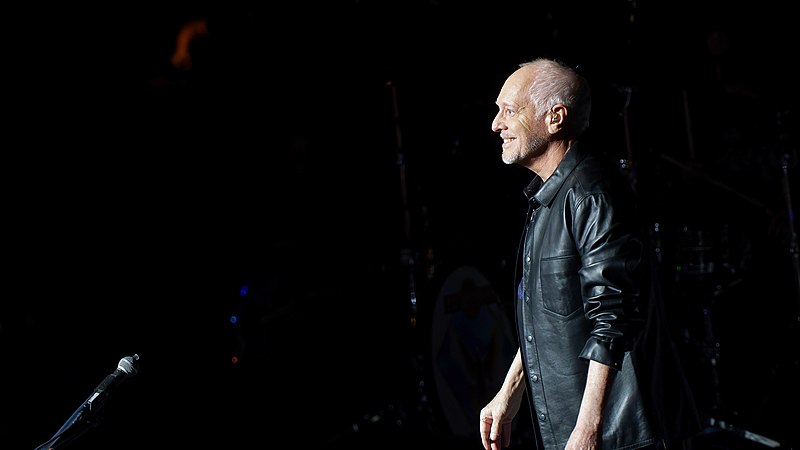 Last Wednesday 16 November, the Mitsubishi Electric Halle in Düsseldorf was the venue where, in a sense, music history was made. It was here, before a just not quite full house that Peter Frampton gave his very last concert of his European Farewell Tour. The originally English rock star, now 72 years young, is forced to step back. In 2019, he announced that he will have to stop touring because he suffers from IBM. This progressive muscle disease will eventually make it impossible for him to continue making music.
Frampton is of course best known for his legendary album "Frampton Comes Alive", which has sold millions of copies, but he was also the 1969 founder of the band Humble Pie, along with Steve Marriot. In 1987, he joined the backing band of his old school friend David Bowie during his Glass Spider Tour. Peter Frampton is still a 'musicians musician'. Valued by musicians for their craftsmanship. Still best known to the general public for a handful of hits and his talkbox solo in his smash hit "Show me the Way".
At the Düsseldorf concert hall, Jack Broadbent was the opener. You often see it, as a solo artist as the opening act for a big artist. It costs nothing, and the artists in question often have a background as street musicians. So did Broadbent, who put on a kind of semi-clownish act. He plays lap guitar, which he plays using a whiskey sack bottle as a bottleneck. Very rhythmically, chopping and waving his arms, it sounded like nothing but it all looked rather theatrical. He started with a cover of Canned Heat's "On the Road Again" and ended his set with his over-the-top version of "Hit the Road, Jack". Broadbent did not make a lasting impression though.
Half an hour later, the lights in the hall turned off, the band came on and there was Peter Frampton. On footage from earlier concerts in his farewell tour, we could still see Frampton upright rocking with his musicians. It was a haunting moment to see Frampton having to be supported as he took the stage. He can no longer walk on his own. Frampton took a seat on a stool. The rest of the band also played the entire concert sitting down. There was no further word. The deterioration was not what we had come for.
The drums put in "Baby (Something's Happening)", and within five bars it was clear that tonight was all about music. The hall sound was very good. Frampton sang like never before and he immediately showed why he is so valued as a musician. He let his Gibson "The Fenix", indeed the guitar he got back thirty years after losing it in a plane crash, howl and sing in a way that raised goosebumps. What a band!
Frampton chatted up the set loosely and was full of wit. Great stories from a long career, full of great friendships and exciting adventures. As if we were sitting around the fireplace at home with him. Then came the fourth song in the set, which everyone expected to be the closing number. "Show me the Way", including the talkbox solo, is something you want to experience as a concertgoer. In Düsseldorf, he played it the last time in this tour, perhaps the very last time. The audience sang along, and there was a sort of summer evening around a campfire feeling. The vibe was good. It was nice to see how much fun Frampton himself was having. Catching everyone's attention.
A little later in the set, the band played the classic "Georgia (always on my mind)", which Frampton recorded on a blues album in 2019. In Düsseldorf, it was clear that Frampton was able to put heart and soul into this music. "The Fenix" wept bitter tears under Frampton's hands. His tone and technique were so good, so tasteful, and so intense. A top-notch performance of this evergreen.
Equally impressive was his rendition of "Black Hole Sun" by Soundgarden, played as a musical piece by Frampton and his band including a talkbox solo by Frampton. A wonderful tribute to the late Chris Cornell. The band played on and on and the set had been on the road for almost two hours when the band stepped on the throttle a little deeper for the finale. The finale consisted of two tasty versions of the slightly forgotten Frampton hits "Baby, I love your way" and the sing-along "Do you feel Like we Do".
Frampton's last concert in Europe may well be as memorable in the books. The man played fresh, inspired, and technically very well, and the pleasure of playing burst from the stage.
In the encore, the band played Humble Pie's "I don't need no doctor" which was very little inferior to the legendary version we know from 1971's "Rockin' the Fillmore". Very impressive.
Peter Frampton said farewell to his fans with a beautiful version of George Harrison's "While my guitar Gently Weeps". A standing ovation was his share. More than deserved. Farewell to a living legend. No false sentimentality. Rock'n roll. Respect.