DMA's Announce New Album
|
DMA'S are announcing their fourth album "How Many Dreams?" for release on 31st March 2023 via I OH YOU. Shared alongside the album news is lead single "Everybody's Saying Thursday's The Weekend" and its accompanying video directed by Joel Burrows.
When DMA'S first began to tease their return with August's track "I Don't Need To Hide" it immediately became clear that a sense of celebration and revolution was brewing within the band. Glittering electronics and a rush-of-blood guitar attack made for a thrill-ride that embodied the euphoria of the band's vaunted live shows perfectly. As they now officially launch new album "How Many Dreams?", the self-acceptance of "I Don't Need To Hide" clears a natural path for "Everybody's Saying Thursday's The Weekend" (produced by Konstantin Kersting and Rich Costey) to tell its story of embracing others. As vocalist Tommy O'Dell sings: 'Better in your arms, always, it's better in your arms.'
Guitarist Jonny Took comments: ' "Everybody's Saying Thursday's The Weekend", we've all thought it, we've all felt it. This song is about letting go of the things that weigh us down and embracing the future with a sense of optimism. Stepping in the "Right light in the dark times". '
DMA'S use the single's video – which stars Heartbreak High actor Gemma Chua-Tran – as an opportunity to put the song in its natural habitat: amongst the warmth of the setting sun, surrounded by friends as the energy of a fading summer slips by.
DMA'S have just completed their biggest ever Australian headline tour and played this summer in the UK on the main stages at TRNSMT and Reading & Leeds festivals. They are currently on tour with Kasabian through Europe and will return to the UK in October for a short run of sold out headline shows, including London's Roundhouse. A huge support show with Arctic Monkeys at Sydney's Domain follows on 14th Jan before the band returns for another big run of UK headline dates in support of new album "How Many Dreams?" in April 2023.
DMA'S new material arrives as their first since last year's celebrated EP "I Love You Unconditionally, Sure Am Going To Miss You", which in turn followed the band's highest charting album to date, 2020's "THE GLOW" (UK Official Albums Chart #4, Scotland #2 and ARIA #2).
As the band sit on the cusp of releasing new album "How Many Dreams?", DMA'S have found an iconic, mythical status among their fanbase – 65,000 ticket sales on their last UK tour alone shows the open-armed response they elicit on international shores. Their world is one of acceptance, freedom of expression, collective high, and each twist and turn in their journey to this point has led them to what will be a landmark album release for the band. The album's opening offerings "I Don't Need To Hide" and "Everybody's Saying Thursday's The Weekend" represent the comfort in being embraced but more than that, they exemplify the biggest talent that DMA'S possess: the ability to distil the wrenches of their personal stories into anthemic universal experiences.
"How Many Dreams?" was crafted by the band to be the grand sum of every part of who DMA'S are. Gleaned from over 70 early demos, it sees them drawing from a wider sonic palette than ever before. Recorded in London with Stuart Price (Dua Lipa, The Killers, Pet Shop Boys) and Rich Costey (Sigur Ros, Muse, Foster the People), then completed with Konstantin Kersting (Mallrat, The Jungle Giants) in the band's hometown of Sydney, "How Many Dreams?" charters a course with stops at dizzying highs and crushing lows. There are songs to come up to and songs to come down to. It is the band emerging from a darker place, and the exhilarating future sound of a band without barriers at the top of their game.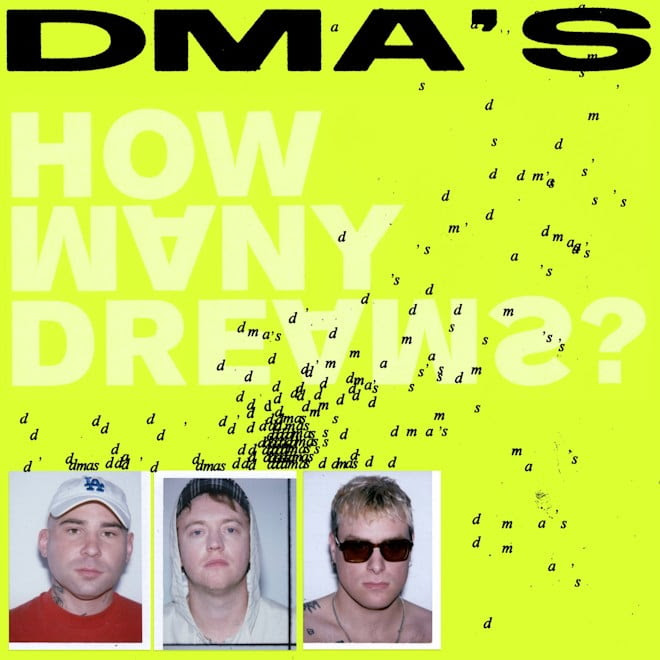 Tracklist How Many Dreams?
How Many Dreams?
Olympia
Everybody's Saying Thursday's The Weekend
Dear Future
I Don't Need To Hide
Forever
Fading Like A Picture
Jai Alai
Get Ravey
21 Year Vacancy
Something We're Overcoming
De Carle
---
Don't forget to follow our Spotify Playlist: