Brian Eno – FOREVERANDEVERNOMORE
|
Already in 1975 Brian Eno was musically an outsider. After his period as a keyboardist with Roxy Music, it appeared that his musicality and creativity do not require structure or musical laws. Music does not necessarily have to be made with traditional musical instruments. At the time, his experiments resulted in the albums "Discreet Music" and the even more famous "Ambient 1 Music for Airports". A new music movement was born and we called it 'ambient'.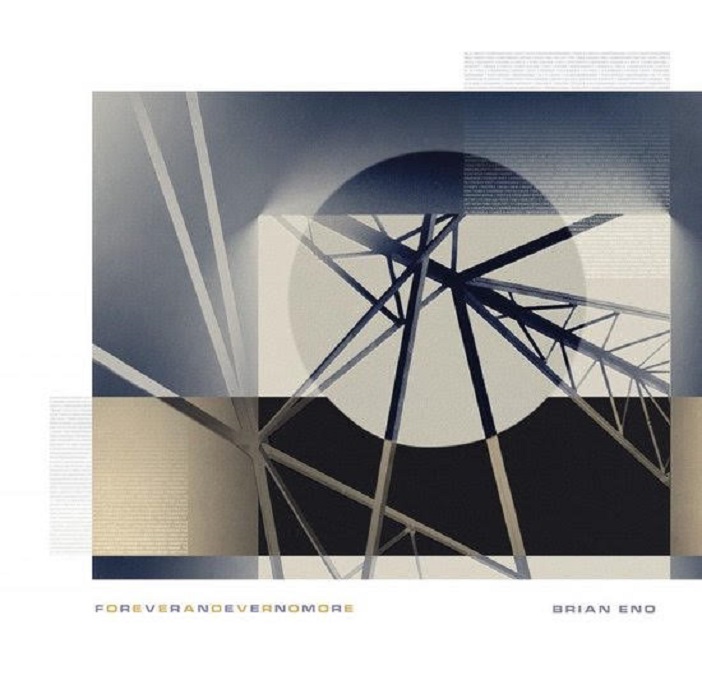 Over the years, Brian Eno's creative mind has been gratefully used by many artists who have collaborated with him, including the greats such as David Bowie, U2 and Ultravox. Brian Eno's new album, recently released under the title "FOREVERANDEVERNOMORE".
The album has 10 tracks, and the album is about the 'climate catastrophe' that affects the world. Eno is far from optimistic about the outcome of the current course we are all sailing. Of course we know that we should not expect a song album from Eno, but "FOREVERANDEVERNOMORE" turns out to be very heavy. That's not to say it isn't beautiful. Close your eyes and let yourself be taken on the most beautiful soundscapes, with heavy drone and bass sounds that give beautiful light ethereal, slightly distorted voices just enough support. Daughter Darla Eno sings. The album feels uncomfortable, penetrating, nihilistic, even apocalyptic. This will not make you happy. Not anywhere.
As early as 2005, with the release of "Another day on Earth," Eno expressed his deep concern about how humanity is destroying its own habitat. Now, 17 years later, he is even more gloomy. While there were sonata-like structures on previous albums, played on piano, you will not encounter them on this album. The music is dark, low, saturated with sustain, breathing like Xenomorph XX121 from the 'Alien' franchise.
Is "FOREVERANDEVERNOMORE" a beautiful album? That question is not easy to answer. Beauty sometimes hides itself in other guises. Breathtaking it is for sure. The music makes you think. With bated breath, with your eyes closed, submerge yourself in bath water that has become cold by now, hoping that you will surface again. Eno has once again been uncompromising. We should be happy about that. Although "FOREVERANDEVERNOMORE" will not prove to be the catalyst we need to turn the tide. Eno doesn't kick anything, doesn't make a political statement, but does something much more difficult. He grants those who dare to hear this a glimpse into his soul, introspective and authentic. An important work that will be heard too little. (8/10) (Verve/Universal)
---
Don't forget to follow our Spotify Playlist: