Robbie Williams – The Heavy Entertainment Show
|
The 11th album from Mr. Robbie Williams is about to premiere. The Pop Showman's goal, is to still 'let him entertain you?' Well he does indeed and his fan base will be partying like a Russian on his current audio tribute of all-things rock& pop! 'The Heavy Entertainment Show' is released 04 November 2016 (in most countries) by Columbia Records.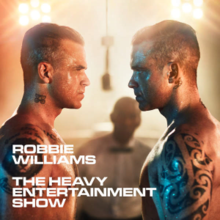 Robbie is working again with his writing/musical powerhouse Guy Chambers, along with Steve Robson and collaborating with the band 'The Killers' on the track "Mixed Signals". The first released single was the gleeful anthem "Party Like A Russian" (30 September 2016). Man could imagine this was playing at a Trump watch party in Moscow, complete with the vodka trolley and all the Old Guard trappings. The song has to be Robbie throwing all caution to the wind and letting the chips land where they may.
The album opens with an opulent grandiose "Heavy Entertainment Show" which feels like a boxer's initial entry into the ring with Sgt. Pepper'esque sound awaits. This single sets the album to a theme and salute of sorts to the best of male pop voices of the 1970'S/80's/90's. Listening track by track, the Killer's tune "Love My Life" sounding like a Bee Gee's influence, a very mature pop tune and attitude. The rest of the album we hear tribute to styles like Bryan Adams, to George Michael, to Billy Joel and Bowie, to the big band idols he continues to honor well!
A song that will be bleeped and edited in many radio markets, but sure to be a single is "Motherfucker" an upfront title for upfront and classic Robbie Williams heavy rock track. This track has been in his live rotation last tour, so good news to hear it properly!
Each track offers a different color of his pop personalities and private personas; from some toe'tapping songs, to some modern funk, to some let's have a few beers songs – this album sees a confident artist telling his own stories on his terms in his own way. The 3 judge panel would agree, he still can entertain and he's still got some fight left in him and that he's just getting started! (8/10) (Columbia Records)
---
Don't forget to follow our Spotify Playlist: