Nits musically entertaining in the Finnish city of Tampere
|
After 2 big shows in Helsinki and Turku Nits played in a small venue, G Livelab in Tampere. They had to play two shows (19 and 22 o'clock) because there were too many people who wanted to see them, after that their show was cancelled/postponed 3 times because of Corona. Maxazine was invited to the late-night show.
It was getting dark in the streets of Tampere, it was a great setting for the music of Nits. Also the venue G Livelab gave the right setting for a great musical evening. Finnish Genelec speakers all around in the G Livelab, which made that the sound was of studio quality, even in the toilet.
The band has played a lot over the years and started a long time ago in 1974. So the experience of the members was huge: writer/singer/guitar player Henk Hofstede, Rob Kloet all kinds of percussion and Robert Jan Stips who played the keys. Also mentioned are their sound and light designers: Paul and Tom Telman, who made the evening in Tampere even more spectacular by using the old building in the lighting plan.
Nits had a busy schedule in Finland during their "Knot"-tour. The first day in Turku, and later in Helsinki both were big venues and the last stop was in Tampere. The second show was probably quite late for most Finns because the first show was sold out, while the second was, with only 150 visitors, even more special.
On the 16th of May 2022, their studio/home/practising place burned down with all instruments and archives. This was their creative home where they recorded a lot, since the beginning of the 80th. Hofstede told about how lucky they were with their fans who collected money for new instruments, so they could quickly get back and play live again. It was the begin of "Ting"-song "House on the Hill".
In Savoy Hotel London the painter Monet and the singer Bob Dylan met in the elevator. Not in real life, but in a song, and "Ultramarine" proved that. During the wonderful "Sketches of Spain", the audience sang along with Hofstede.
They played a varied set of golden 'oldies' like "JOS days", "Nescio", "Soap Bubble Box", "In the Dutch Mountains" and some new(er) songs from their last album "Knot". "The Concrete House" was about his father, and he sang it while wearing his old hat. Hofstede's warm voice has like good old whiskey; aged and gotten better over the years, with more depth and more flavour. "Cars and cars" started off with the piano by Robert Jan Stips and become louder and louder, but it never became too much. At the end of the circle it went back to the piano.
The first time Nits came to Finland was in 1982. They came by boat to Turku and Henk was really happy with his grandmother who made a shawl, which kept him warm in the cold Turku. "Lits-Jumeaux" was about Hofstede's mother, who was brave enough to hide a Jewish boy in their house during the Second World War. Even while next door a German soldier was living. The song, like most of their songs, was very visually written lyrics:
'Jewish boy & soldier boy
We are sleeping, In lits-jumeaux
A thin wall between us
A thin wall between 2 houses, 29 and 31′
The soundbox with electric sounds was opened in "Beromünster". Sending my love via the soundbites. It was sometimes tricky for drummer Robert Jan Stips not to hit the drums too hard. In such a small venue it could easily sound too loud, so you can't hear the other instruments anymore. But he succeeded greatly. In the more significant places he could really hit, now it was much more subtle.
Also, a brand new song was played live on stage tonight, their new single "The ghost ranch". 'The young female Finnish prime minister, Sanna Marin (who comes from Tampere) could learn the Dutch prime minister Mark Rutte a lot more besides dancing', Hofstede joked. The band had a lot of fun on stage and was grateful to perform in Finland. Hopefully, we don't have to wait so long (almost 3 years) before they come back to play in Finland.
It was hard for them to stop playing, they gave two encores and had a setlist of 18 songs. The 'old' men who played for almost 2 hours had a great time and after the show, they were even willing to take pictures and write some autographs for the fans. Even someone who took a picture long ago from the Nits in Finland was present and had a talk with Hofstede about that moment that both remembered quite well. Maybe it will end up in the upcoming book about Nits. At 12 o'clock, closing time, all went home, the band tired but fulfilled and the audience with a bag full of inspiration and lots of stories.
To hear them live is so much better than via stream or a CD…
Photo's (c) Hans Kreutzer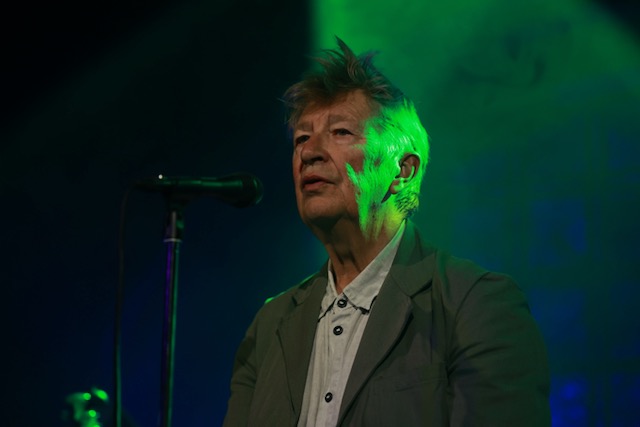 ---
Don't forget to follow our Spotify Playlist: