"Sides of Ray", The Exclusive Vinyl Collection Out November 19th
|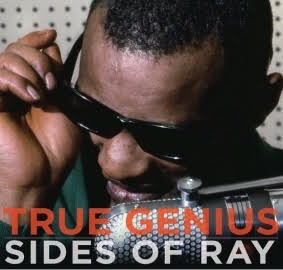 Tangerine Records is thrilled to announce "Sides of Ray", a vinyl collection that illustrates the many musical "sides" of Ray by focusing each album side on some of the broader genre categories he visited most.
Ray Charles is both one of the most iconic artists of all time as well as one of the hardest to define by genre. At the beginning of his career, he was dubbed the Genius of Soul for boldly combining traditional R&B with Gospel music and giving birth to Soul music. Yet this momentous musical accomplishment was just the beginning of a five-decade career in which he uniquely succeeded in virtually every genre. Ray's unique mastery of music allowed him to continue to explore all forms of music, freely floating between jazz, blues, pop, rock, soul and country while continuing to combine them in new, unprecedented ways.
The first side focuses on Soul music. Of course, Ray put a little bit of soul in everything he did. But these songs and performances were a part of the bedrock of Soul, defining the genre that Ray Charles, more than any other artists, was responsible for creating.
The second side centers on Jazz & Blues, which are as fundamental to Ray's music as they are to American popular music. In this set, as in everything Ray sang, one can clearly feel the emotions that can only be brought on by life's heartbreaks and hard times.
The third side highlights another of Ray's remarkable achievements, the dramatic expansion of country music. In this set, while every song is a country song, you'll hear elements of jazz, blues, soul, gospel, and pop. Not only did Ray defy racial and musical boundaries with his unprecedented move into country music, but he also elevated it to the world stage, creating the first ever world-wide pop hit with a country song, "I Can't Stop Loving You".
The last side, Pop Classics, is a bit harder to define. First, nearly everything that Ray Charles sang was a classic. And popular music changes with the times. If you consider "pop" as recordings that are universal in their appeal and that don't sit neatly within another genre, then these songs fit the bill.
Ray Charles's recordings are major landmarks in American culture. By combining Gospel with Rhythm & Blues, Charles pioneered soul music and his ground-breaking move into Country music during the heart of the Civil Rights Movement, broke racial barriers while elevating Country music to world-wide popularity for the very first time. Ray Charles uniquely succeeded in recording and blending virtually every genre of music including soul, R&B, jazz, blue country, rock and pop in unique and unprecedented ways which is why Frank Sinatra dubbed him the only "True Genius" in music. This visionary singer, songwriter, pianist and composer brought his expansive musical vision to a worldwide audience and forever changed the face of American Music.
Charles' staggering achievements over a 58-year career include 17 GRAMMY Awards, induction into the Rock and Roll Hall of Fame, a Lifetime Achievement and the President's Merit Award, the Presidential Medal for the Arts, France's Legion of Honor, the Kennedy Center Honors, the NAACP Image Awards' "Hall of Fame Award," and numerous other music Halls of Fame, including those for Jazz and Rhythm & Blues, all testament to his enormous influence. In 2019, he was honored by the Grand Ole Opry with An Opry Salute to Ray Charles, which was broadcast across PBS stations.
"Sides of Ray"
SIDE ONE – SOUL
Hit The Road Jack
I Don't Need No Doctor
Unchain My Heart
No One
Hide Nor Hair
I've Got A Woman (Live)
SIDE TWO – JAZZ & BLUES
Let's Go Get Stoned
I'm Gonna Move To The Outskirts Of Town
Smack Dab In The Middle
Them That Got
One Mint Julep
I've Got News For You
SIDE THREE – COUNTRY
Here We Go Again
You Are My Sunshine
Crying Time
Take These Chaing From My Heart
Ring Of Fire
I Can't Stop Loving You
SIDE FOUR – POP CLASSICS
Georgia On My Mind
Eleanor Rigby
Busted
Till There Was You
Hallelujah I Love Her So (Live)
A Song For You
---
Don't forget to follow our Spotify Playlist: