Tito Jackson – Under Your Spell
|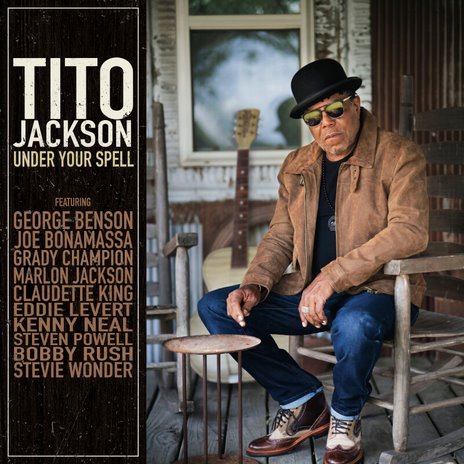 There are artists whose names immediately define what style of music they bring. A lot in fact, because the signature of an artist is precisely why that artist builds his or her fan base. Success after a change of style is only for a few. Even big names like UB40 completely missed the mark in the past, when they suddenly released a country-like album. Cobbler, stick to your last.
When hearing Tito Jackson's name, music lovers know to expect a good portion of Motown, soul, pop, and disco. Or not? Tito has been making blues music since 2003. And not even that bad. Fair, his first solo album 'Tito Time' was more or less R&B and Jazz, but already featured collaborations with Big Daddy Kane, Jocelyn Brown, Betty Wright and his sons, better known as 3T. Not an earth-shattering album, but fine, as long as the musician has fun; He won't have any financial problems anymore, so he can release these kinds of outings with ease.
'Under Your Spell' is Tito's first blues album and, as far as we know, also the first blues album in one of the most musical families ever worldwide. And once again, he uses a slew of household names, including George Benson, Joe Bonamassa, Marlon Jackson, Eddie Levert, Kenny Neal, Bobby Rush and even Stevie Wonder. Well, he has his name with it, that makes it all a lot easier.
It was a mix of covers and own songs, of which 'All In The Family Blues', written by regular Jackson writer duo Kenny Gamble and Leon Huff, which he recorded together with Eddie Levert, is perhaps the best result. Okay, here and there Jackson mixes in some Rhythm and Blues, jazz, soul and stuff, but in the end, the 67-year-old makes a strong blues album with 'Under Your Spell'. An album with a positive attitude, something that is usually impossible for blues.
In addition to a sublime guitar playing, BB King's classic 'Rock Me Baby' is complemented by BB King's own daughter Claudette King, who takes the song to a new high together with Jackson and a magnificent horn section. However, is it enough to make Tito Jackson a blues giant? The disadvantage of the name Jackson is and remains that a style sticks to it. Musically there is little to nothing to argue with on Jackson's blues, but will the general public ever think of the name Jackson when it comes to blues or vice versa? No, probably not, but luckily that didn't stop Tito from recording 'Under Your Spell'. Evidence of a musical family man's musicianship (8/10) (Gulf Coast/Hillside Global)
---
Don't forget to follow our Spotify Playlist: