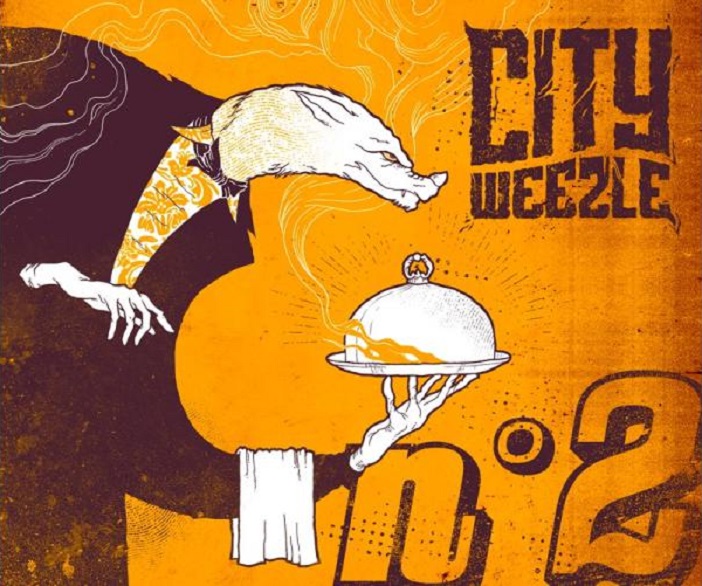 If you don't know City Weezle, don't be ashamed. The band was founded in Paris in 2005, by the Irishman Simon Fleury. In addition to him on vocals, banjo and guitar, the band consist of Japanese bassist Kengo Moichizuki, German keyboardist Axel 'Wunderkind' Steinbiss, French guitarist Pierre Schmidt and Japanese drum ninja Ai Uchida. Unfortunately after a full album, "Taboo", the band went on hiatus and Fleury released another EP under the name of City Weezle ("Lysergik Tea Party", 2013), but it wasn't until this year that the quintet got back together to make music. Fortunately. A second album, "No. 2". Why make it difficult.
Musically, it is immediately clear where City Weezle gets its inspiration from. Impossible to miss we hear bands like Mr Bungle, Zappa, Faith No More and Primus. Primus especially yes, who we would almost confuse with the band on the great "She's a Stomper". As if Les Claypool himself came to play bass for a while. Great class.
And yet they don't stick to the hard funk-rock. With "Even Weezles Get The Blues" they (indeed) take the blues side as a quiet intermezzo, but especially worthy to listen to is "The Underground in Europe", where Queen is poked fun at and a part of drums that many metal bands still envy. will be up.
However, if you listen to "Eskimo Pie", you will go back into that old side of Zappa or Mr Bungle. Perhaps not extremely high-quality musically, but put together more than genius. In terms of style, the guys manage to completely surprise and wrap you in describing the famous game musically with the 13 minutes long "Cluedo" in a way that is clearly influenced by Mr Bungle and Primus. With jazz interludes that Zappa couldn't have come up with yet. And a 'secret track' after a few minutes, which gives "Cluedo" a different result. Yes indeed, hilarity everywhere and it is only clear that the gentlemen did not make this music for the old bread and games, but really enjoyed working on "No. 2".
No, City Weezle is not going to make it to the general public, and there certainly will be no such ambition. You should not see this band in the stadiums or arenas but in the dingy little halls. Close to the audience, thick clouds of smoke, sweat and beer smell. Then they are supreme. I'll be anxiously waiting for a tour because musically brought together this is probably the best funk-rock fusion that has been released in the last 5 years. And the next 5 years as well. (9/10) (Own production)
---
Don't forget to follow our Spotify Playlist: