Legendary albums… Back To Black (Amy Winehouse)
|
When Amy Winehouse blew the world with her debut album 'Frank' in 2003, it became difficult for the singer to make the difficult second album just as strong. Therefore it took three years for the London singer to present its successor, 'Back To Black'. The album was not simply as strong as 'Frank'; the album devalued the strong debut to a trifle.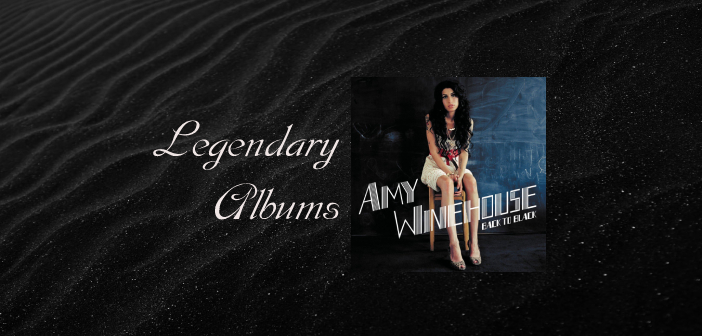 The second album was released in October 2006 and is one of the best-selling albums of the 21st century with over 20 million copies sold. The album won five Grammys for a reason: 'Best Pop Vocal Album', 'Best Female Pop Vocal Performance', 'Song of the Year' ('Rehab'), 'Record of the Year' ('Rehab') and 'Best New Artist'. 'Back To Black' topped the album charts in no less than 19 countries.
On the album Winehouse used a wide range of musicians, including no less than 9 different saxophonists, including Vincent Henry, who also played on 'Frank'. He played on no less than 5 tracks, recorded at the Zoo Studio of producer Salaam Remi in Miami, who also plays double bass on the album. For the remaining six songs, her publishing company paired her with Mark Ronson, who took care of the production of the remaining songs at Chung King Studios and Daptone Records in New York. There they made use of the Dap-Kings, the Daptone house band that also had a huge succes with Lee Fields, Celine Dion, Michael Bublé and of course Sharon Jones, and had collaborated with Ronson on several occasions. It turned out to be a golden combination again, after she had already used the band during her tour.
With the help of Mark Ronson, Amy Winehouse managed to build her legendary status with hits such as 'You Know I'm No Good', 'Rehab', 'Back to Black', 'Tears Dry on Their Own' and 'Love Is a Losing Game'. For the Deluxe version of 'Back To Black', Ronson and Winehouse recorded the world famous cover of British indie rock band The Zutons as an extra track in their successful version: 'Valerie'. That song would eventually become Winehouse's biggest hit; It eventually became the only number 1 listing worldwide, in the Netherlands, while the single only finished at 2 in the UK.
Despite the fact that Amy Winehouse died only 5 years later, on July 23, 2011, no new album of Amy was released after the legendary album. Concerts could only take place sporadically, because of her extreme alcohol and drug use. That eventually led to her death. Whether it had to do with the fact that no new album was released (her success was exploited posthumously and of course through the countless collectors) is unknown. What is certain is that 'Back To Black' is a legendary album. Because of her inimitable style, which was a mix of 50s/60s jazz/soul, mixed with a touch of ska and reggae.
'Back To Black' is Amy Winehouse's best possible legacy, who arguably proved that soul and jazz weren't over yet. As a 23-year-old, Winehouse settled between greats such as Etta James, Macy Gray, Sharon Jones, Billie Holiday and The Supremes. More than deserved a Legendary album: 'Back To Black'
---
Don't forget to follow our Spotify Playlist: