Myles Kennedy – The Ides of March
|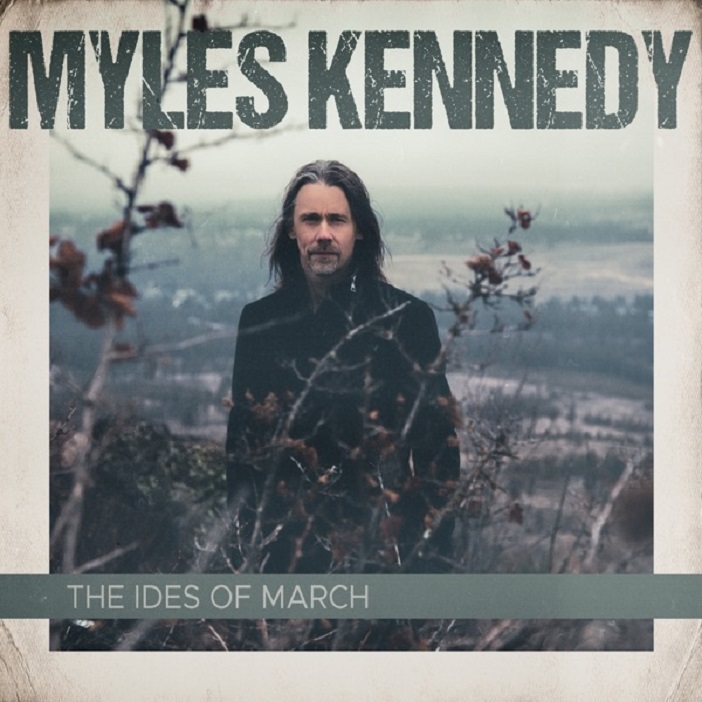 Time flies. It has been three years since Myles' debut solo album "Year of the Tiger" was released. And what a pleasant surprise that was. Acoustically performed singer-songwriter songs, one even more beautiful and poignant than the other. And his voice turned out to be perfectly suitable for this modest music. In fact, it suited even better than the heavy music of his employers Alter Bridge and Slash, where after a number of songs I always get a bit tired of his high voice, although not every rocker will agree.
Due to the corona crisis, Alter Bridge's tour – promoting their latest album "Walk the Sky" – was cancelled and there was room in Myles' agenda to write and record "The Ides of March". The acoustic guitar was more often exchanged for an electric one and so this album has become a more varied and slightly harder-rocking whole, with again forays into soul, country and especially blues. The production was again in the trusted hands of Michael "Elvis" Baskette, who fortunately in this setting does not use the densely filled, stripped-back "wall of sound" as we know it from the Alter Bridge albums.
While "Year of the Tiger" was a personal, somewhat heavy record about his father's death, this one goes more into the global problems and challenges of these days. For example, the animation clip with the opener "Get Along" leaves nothing to the imagination. It has become a catchy song full of slide guitar with a nice chorus and a somewhat simplistic message. The following "A Thousand Words" and "In Stride" are a kind of 'Alter Bridge light'; especially the sing-along choruses would not be out of place with the band. And Kennedy turns out to be a good soloist. Slightly less nimble than colleague Tremonti, but always tasteful. Especially the slide guitar in "In Stride" is nice. And then the key and title track: starting with an intro stolen from "Stairway to Heaven", this nearly eight-minute epic expands into a melodic monster full of drama. Beautiful construction, very fine drumming too, of course wonderfully sung and provided with two long guitar solos. It doesn't get any better than this.
"Wake Me When It's Over" is uptempo and a bit poppy and brings a little lightness at the right time. The sensitive, acoustic "Love Rain Down" would not have been out of place on his previous record. This also applies to "Wanderlust Begins". Both are beautiful songs, sung with passion and contribute to the dynamics on this album. We hear plenty of blues influences in the nice "Tell It Like It Is", again with a lot of slide guitar, and especially in the following fine "Moonshot", in which the latter has the finest room-wide sing-along chorus. It concludes with "Sifting Through The Fire" and "Worried Mind". The first is partly acoustic with a cheerful southern rock feel, the second goes back to laid back blues, sung passionately by Myles and is a nice ending to a great album.
While his previous solo album may have had slightly stronger songs in general, the variance on this album is a lot bigger. From rock to blues and from acoustic to almost prog in the title track. I, therefore, rate both albums equally highly; a must for all rock fans who want to hear something lighter from time to time in between the heavier pieces. Great soundtrack for the summer! (9/10) (Rtbe M-R / Napalm Records)
TRACKLIST
Get Along
A Thousand Words
In Stride
The Ides of March
Wake Me When It's Over
Love Rain Down
Tell It Like It Is
Moonshot
Wanderlust Begins
Sifting Through The Fire
Worried Mind
---
Don't forget to follow our Spotify Playlist: