New Music By Prince, "Welcome 2 America"
|
Recorded in the spring of 2010 and then mysteriously archived by Prince, the statement album "Welcome 2 America" a documents Prince's concerns, hopes, and visions for a shifting society, presciently foreshadowing an era of political division, disinformation, and a renewed fight for racial justice.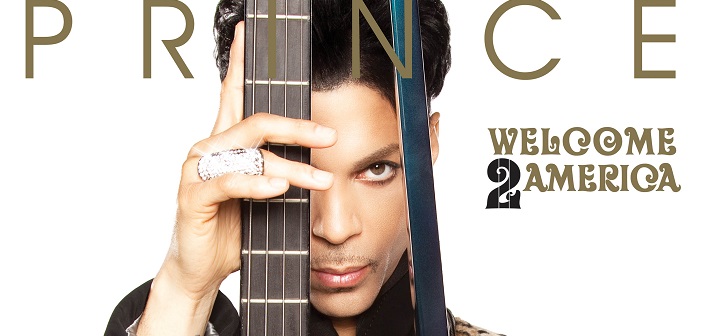 The album features some of Prince's only studio collaborations with bassist Tal Wilkenfeld, drummer Chris Coleman, and engineer Jason Agel, with additional contributions from New Power Generation singers Shelby J, Liv Warfield, and Elisa Fiorillo and keyboardist Morris Hayes, who Prince also recruited to co-produce the album.
The Deluxe Edition of "Welcome 2 America" combines the 2LP and CD versions of the album with a never before released Blu-ray of Prince's full April 28, 2011 performance at The Forum and is presented in 1080p with stereo, 5.1 surround and Dolby Atmos audio.
The live concert features Prince with his 2011-era lineup of the New Power Generation, including Shelby J., Liv Warfield, Elisa Fiorillo, and Morris Hayes, additional keyboardists Renato Neto and Cassandra O'Neal, bassist Ida Nielsen, drummer John Blackwell, and dancers Maya and Nandy McClean (The Twinz). Captured midway through his marathon "21 Nite Stand" at The Forum in Inglewood, California, this performance documents the spontaneity and incendiary energy of that historic portion of the Welcome 2 America Tour – an audiovisual testament to the proclamation he made at the launch of the tour in October, 2010, stating 'Bring friends, bring Ur children, and bring foot spray, because… it's gonna B funky.'
The performance features a cameo by recent GRAMMY-winner Ledisi and covers of Bob Dylan's "Make You Feel My Love" and Roxy Music's "More Than This" alongside Prince favorites including "17 Days," "Controversy," "1999," and "Purple Rain."
In addition, the Deluxe Edition of "Welcome 2 America" will be presented as a luxe gold-foil package designed by GRAMMY-nominated artist Mathieu Bitton and GRAMMY-nominated creative director and Prince associate Trevor Guy, complete with a 12"x12" 32-page companion book and embossed vellum envelope containing exclusive Welcome 2 America era ephemera (photographic art print, 23"x36" poster, replica setlist, ticket, VIP invitation and backstage passes). Experienced as a complete package, the Deluxe Edition provides a multidimensional and immersive view of Prince's creative genius during his spontaneous, energetic, and thought-provoking "Welcome 2 America" era.
---
Don't forget to follow our Spotify Playlist: