Sea Fever Shares Soaring New Single 'Crossed Wires'
|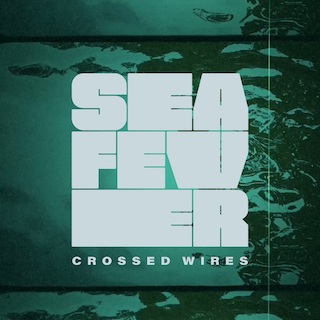 Today, February 26th, Manchester outfit Sea Fever share "Crossed Wires", the first single taken from their upcoming debut album set for release in Summer 2021.
Talking about the song, the band says; Crossed Wires is a song about running away from confusion, untangling yourself and heading into clarity. We live in a whirlwind of information and wired up to technology. It's about breaking free from it. We deliberately stayed away from our comfort zones and tried to create a sense of euphoria. We're always going to be driven by Mancunian melody but we try to mix it with futuristic, soaring sounds and dark escapism. "
Sea Fever is a five piece collective fronted by Iwan Gronow (Haven, Johnny Marr) on vocals and guitars, alongside singer Bethany Cassidy (Section 25), the collective also features New Order's Tom Chapman and Phil Cunningham – with Tom on bass, guitars, synths and programming and Phil on guitars. Powering the band's pulsing beats is Elliot Barlow, who joined the band's debut by New Order's drummer Stephen Morris.
Sea Fever explains that their coming together as a unit felt inevitable: "We'd wanted to work with each other for ages, so when we finally sat down in the studio, the band just seemed to come together naturally. It felt like we were really free to explore the kinds of music that have always inspired us, we dug right through the record crates of our minds to shape the sound of Sea Fever. "
---
Don't forget to follow our Spotify Playlist: