Dua Lipa Live in Studio 2054
|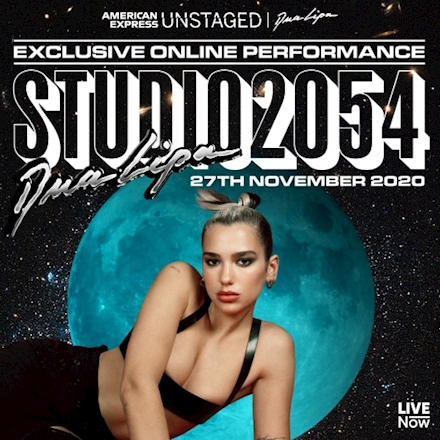 How easy the 1980s were. If you were a fan of rock, you had Queen or Kiss to choose from. If you wanted reggae, you were a fan of UB40, and with pop, you ended up with Level 42. In terms of singers you could choose from Michael Jackson, Elton John, Prince and Bruce Springsteen, or Kylie Minogue, Kim Wilde and Madonna. When we look back at the 1980s, it seems like there were simply fewer choices. Everyone was a fan of one or more of the above artists, supplemented with a few lesser gods. But at least one of the above artists was always mentioned.
Then came the '90s,' 00s and early '10s. The years of diversity. Dozens, no, hundreds of artists came and went again. Many know the names, but you rarely find people who were fans of a specific artist from those years or can name more than 3 of their hits. Those years were very heavily populated by countless short-lived acts: Liquido, The Verve, Therapy?, 4 Non Blondes, Goo Goo Dolls, you name it… Even of the brightest stars of the early 90s, Nirvana, the majority only knows "Smells Like Teen Spirit."
In 2020, the choices are again fewer. It's all easier because when you see a new entrant hit the charts, you already know by the name that you should start listening. Lady Gaga, Miley Cyrus, Dua Lipa…all are the big names of the present, and deservedly so!
The British-Kosovar Dua Lipa has had the honour to perform perhaps the largest streamed concert of this Covid-19 period to date. On Friday evening, the eyes of thousands of fans from all over the world were on the stream of "Studio 2054," the singer's greatly anticipated concert. This was not a simple stream of a band on a stage that was rifling through old songs without fanfare, but rather a full show with roller skaters, guest artists, a light show, and mirror balls! Billed more as a live movie than a regular live show, this concert was a sensational experience in which Dua sang and danced.
Dua Lipa's crew went into an isolated bubble beforehand to provide those watching  with the most complete live sensation possible, so we could all forget Covid-19 restrictions for a while. Lipa kicked off an evening with "Future Nostalgia," in which Lipa put her live show on a Top-of-the-Pops-like setting with her audience of dancers as if it were a series of TV performances. And that setting was a successful choice, where Lipa continued with "Levitating," "Pretty Please" and the INXS-laced "Break My Heart." The concert brought many pieces together, with Lipa cleverly making use of the various halls in the Los Angeles studio complex, from where the live stream was broadcast around the world.
Although several guest artists were announced in advance, it took almost half an hour before Lipa visited her first logical big guest with The Black Madonna at "Physical," in a true eighties disco. Well, we already saw FKA Twigs in a pole dance act, but we rather consider that filler. No effort was spared, however, to use sets and entourage. The only thing that was missing was an audience because the dance floor could have been fuller. Oh, Corona…
Dua Lipa gave herself fully in a show where they used all possibilities. Rarely was there a short moment when the star could catch her breath and let her dancers take over the front stage. It looked like a real stadium or club concert, although the break during "Prisoner," the hit she currently has with Miley Cyrus, might have been resolved in a different way. Watching the video clip together on the couch was perhaps the perfect moment for Lipa to change clothes, and also J. Balvin who sang along with their joint hit "Un Dia (One Day)" via a TV, could have been staged differently.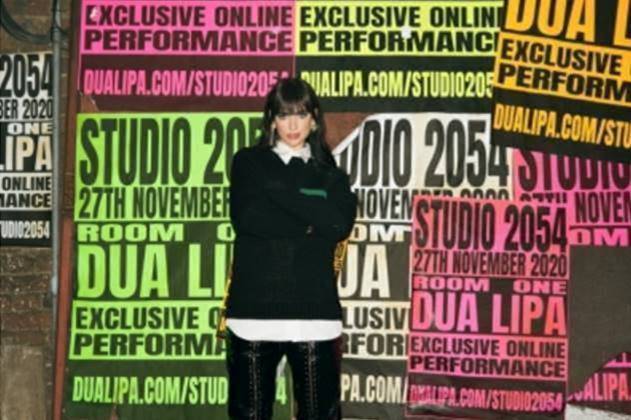 "Fever" was more pleasing, with Lipa taking the Belgian Angèle, with whom she recorded the hit, into the concert. Calvin Harris was replaced by DJ Buck Betty, which was perfect musically, partly because Buck Betty will be the supporting act during her postponed tour that will visit the Netherlands in October 2021. The big hit "One Kiss" was also one of the many highlights of the evening musically, which from that moment on only consisted of highlights. "Queen Kylie" was shouted by Dua Lipa behind the turntables serving as the backdrop at that time, making the circle towards the 80s complete again, with "Real Groove" and "Electricity."
Sir Elton John also came by, and got a moment of honour with "Rocketman," for Lipa a moment of rest after all that jumping and dancing. And after Kylie Minogue, also a well-chosen point to the
80s, the concert moved on to the present, where Lipa is still the boss, although it may have been a shame that "Hallucinate" followed without Lipa and John performing together. It was the start of the finale, where Lipa ended her concert with "Don't Start Now," ending through the different sets back to where she'd started earlier in the evening.
No, it was not the experience of a real live concert where you can stand with a drink in hand and sweat in a crowded hall, only to take the train home afterwards full of adrenaline and not be able to sleep 3 hours later. But, as we are not allowed that experience due to Covid, Dua Lipa approached perfection when it comes to a good replacement. We are eagerly awaiting October 2021, when we really get to be there.

---
Don't forget to follow our Spotify Playlist: